Are you familiar with ThreadworX embroidery threads? ThreadworX has an extensive line of different types of overdyed threads for hand embroidery, so if you love overdyed threads, you might want to take a look at what they offer. I've been playing with some ThreadworX threads, and while I was at it, I thought a few photos were in order, to entice you!
Well, what can I say? I'm a thread junkie. You know I am. And I'm not afraid to admit it!
ThreadworX is perhaps best known for their overdyed cottons. They produce overdyed cotton threads in different weights: stranded floss, in 5 and 20-yard skeins, and pearl cotton in size 3, 5, 8, and 12.
Color! *sigh* I love color.
ThreadworX came about when another thread company – Needle Necessities – closed. The color designer and her son started up ThreadworX to cover the gap left in the market when Needle Necessities thread was no longer available. I don't know the ins and outs of the business side of such ventures, but I do know that ThreadworX has managed to produce some gorgeous overdyed threads for today's market.
Their pearl cottons are quite lovely! I've done a little bit of stitching with #8 and #12 (which come on twisted skeins, rather than balls, like most pearl cottons of the same size), and they stitch up beautifully.
If you like threads in bold colors, in deep jewel tones, in soft cool colors, in brilliant warm colors… they're all here.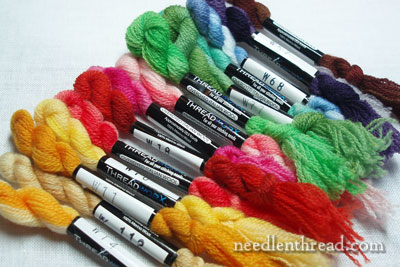 What I didn't know about ThreadworX, but that what really intrigued me when I found out, is that they also produce an overdyed range of Bella Lusso, which is an Italian merino wool embroidery thread.
I've stitched a little bit with Bella Lusso and liked it. It's a soft, smooth wool, very nice for embroidery.
So the idea of seeing what it looked like, overdyed, was pretty appealing!
I don't use a whole lot of overdyed thread in my work, but for certain types of projects, I like it! The overdyed red Bella Lusso, for example, would've been great to use on the comb of my crewel rooster.
The fact that ThreadworX overdyed Bella Lusso was exciting and surprising. I was pretty impressed that they had added it to their cotton collection. Then I found out that they also overdye Vineyard wool and silk, which are used a lot in needlepoint. The photo above is a close-up of a skein of each.
And that was pretty interesting. But then I found out….
… that they also overdye one of my favorite silks for hand embroidery – Soie d'Alger. I didn't know Soie d'Alger was available overdyed. Soie d'Alger is a wonderful thread to stitch with – it has a warm, subtle sheen that shows up well in the almost-black-and-white photo above. The overdyed colors of those threads are brilliant:
They have a nice range of Soie d'Alger. Not all the colors are quite so brilliant, if you're looking for something more subtle.
Besides regular embroidery thread, ThreadworX has ventured into the area of dying specialty threads, like Kreinik's #8 metallic braid.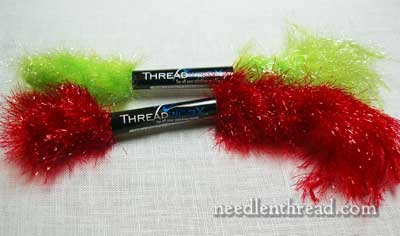 And finally, they also produce this hairy thread, which reminds me somehow of Dr. Suess! I think it would be a fun thread to try out on Christmas ornaments and the like, so that's my plan.
In case you haven't heard of ThreadworX, you might want to check out their range of threads to see if there's anything there that'll suit your taste. The ThreadworX website has a nice feature of showing photo enlargements of their individual skeins of thread, so it's easy to browse through their color collections and get a sense of what they have. Their threads are carried in needlework shops around the world. If you want to see if there's one near you, you can check out their store locator. Online, I've found their threads at various shops, including Needle in a Haystack in California.
And just a little note about using overdyed threads: Normally, I err on the side of caution when working with overdyed threads – I don't stitch anything with them, as is, that I would need to wash. Folks who use overdyed threads probably already know this, but I thought I'd mention it, just to make sure! Sometimes, setting the color with vinegar or salt water will work, but sometimes, it doesn't. Regardless of where an overdyed thread is manufactured, you should always test for colorfastness before assuming that they are, or might be.
So, now it's your turn. Let's talk about threads!! Have you used ThreadworX threads? If so, what's your take? Do you like overdyed threads? Do you use them often? In what types of needlework? I'd love to hear your input on the topic! Feel free to leave a comment and discuss!