Now and then, I get e-mail inquiries about Brazilian Embroidery – either from newcomers who are looking for learning resources for Brazilian Embroidery or from stitchers looking for supplies.
I was glad to receive an e-mail not long ago from Pat Kamperschroer, who is the newsletter editor for the Brazilian Dimensional Embroidery International Guild (BDEIG). Pat noted that I don't have Brazilian Embroidery listed under the "Types of Hand Embroidery" section on the website. I suppose it was kind of cheeky of me, but I hinted (or maybe I asked outright!) that if I had some good photos of some Brazilian Embroidery, I could build a permanent page with resources. The last time I did Brazilian Embroidery was about 18 years ago, so I don't have anything of my own to build a page around. Pat very kindly sent my reply on to some of the others involved in the BDEIG, and thanks to Loretta Holzberger, the treasurer, I now have some samples of Brazilian Embroidery to use to build a permanent page under "Types of Hand Embroidery," and link it up to some good resources.
Thank you, Pat and Loretta!
Today, I'd like to show off some photos of Loretta's Brazilian Embroidery and talk a little bit about this type of embroidery. And then later in the week, I'll build that permanent page and do some linking up!
All of the photos here are from Loretta Holzberger and represent her work.
Loretta does some amazing dimensional embroidery. She has a website called Dimensional Embroidery, where she sells designs and kits for Brazilian Embroidery, so most of these pieces featured here, you'll find in kit form on her site.
Now, what is it that makes Brazilian Embroidery different from surface embroidery or even stumpwork? It's obvious that it's a very dimensional embroidery, for makes use of woven picots, lots of French knots, bullion stitches, cast on stitch, drizzle stitch, and so forth.
Unlike stumpwork, which is also dimensional, Brazilian Embroidery doesn't rely on the use of wires for supports of various parts of the design (which is typically done in stumpwork for flowers and leaves), and you don't see padded areas or covered foundations (like wooden beads). Brazilian Embroider relies on the stitches alone and the build up and layering of the design to create its dimensional effect.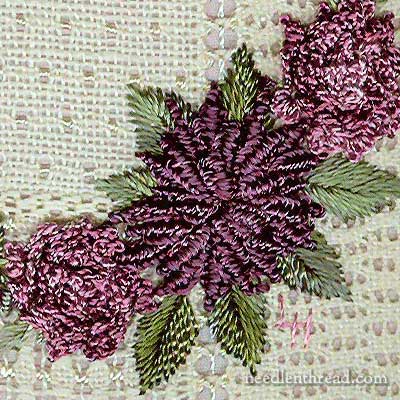 You can see in this piece that Loretta got inventive with the background and worked the Brazilian Embroidery design on a piece of drawn and pulled thread, which is probably mounted on another background fabric that's tightly woven. I love seeing combinations of different techniques in a piece like this! Typically, BE is stitched on a tightly woven ground fabric that supports the stitching. Trigger cloth, or blazer poplin, is one of the more common fabrics used for BE, but in fact, the technique can be worked on any ground fabric that has a close weave.
Another noticeable difference between specifically Brazilian Embroidery and other dimensional and surface embroidery techniques is that Brazilian Embroidery always features flowers and foliage as its subject matter, and nothing else. You don't see, for example, people embroidered in BE techniques – or animals, or inanimate objects, and so forth. You see foliage and flowers.
But that doesn't mean that Brazilian Embroidery is relegated to the framable-picture-for-the-wall or the top of a sofa cushion. No – it can be used to embellish anything that wants embroidery for embellishment.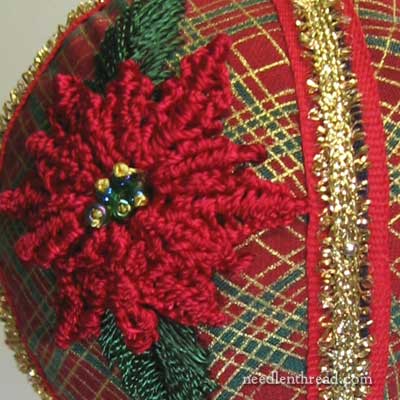 What really sets Brazilian Embroidery aside from other techniques, though, is that it uses one type of thread exclusively.
You know how, in surface embroidery, you might use wool and silk and cotton – and maybe all in the same piece? Or you might use silk and metal threads… or in stumpwork, you might combine wool and silk and metal threads? That doesn't normally happen in Brazilian Embroidery.
The "signature look" of Brazilian Embroidery comes from the thread that is used, which is made from rayon. Brazilian Embroider threads have a very high sheen and are z-twisted. The most popular Brazilian Embroidery thread is by Ed-Mar, which supplies seven different weights (thicknesses) of the rayon thread to work with.
For more information on Brazilian Embroidery, I'd especially like to point you to the Brazilian Dimensional Embroidery International Guild, where you can find all kinds of information, instructions, and even free projects. If you're looking for designs or kits, feel free to visit Loretta's Custom Stitchery. Incidentally, and worth mentioning, Loretta also has a selection of stumpwork flower designs on her site, and some needlelace designs. Her kits include screen printed designs on the ground fabric and all the instructions and specialty items required for the work, but not the threads. There's a list of required threads in the instructional packet. This helps make the kits affordable, especially for those who already have threads in their stash.
For threads and other little necessities and accessories – including needles (milliners are used a lot in Brazilian Embroidery, thanks to all those bullion knots!) – I recommend Threads in Bloom. Sharon provides friendly and knowledgeable customer service, along with all the supplies and some kits for Brazilian Embroidery.
Now, when I get a moment – and can remember how to do it! – I'll build a permanent reference page for Brazilian Embroidery here on Needle 'n Thread and expand the "Types of Hand Embroidery" section a little bit more! (Finally!)
So what about you? Are you a Brazilian Embroidery enthusiast? Why or why not? What do you like about it? What don't you like about it? What are your favorite resources? Have you tried the technique, or is it something on your list to try? Let us know your thoughts! Feel free to leave a comment a below!