Well, as promised, today I'm announcing the winner of the Agecroft Sweet Bag silk thread kit give-away!
And you know, I thought I'd wax loquacious for a bit, and ramble on about the how fun the give-away was, how much I enjoyed reading your comments (yes, I read all 740+ comments!), and how much I appreciate the enthusiasm and interest of all of you – how you inspire me, how great I think it is to be able to "connect" with like-minded embroiderers, and on and on and on!
Yes, I was going to ramble on. But really, I know you just want the punch line! Who WON?!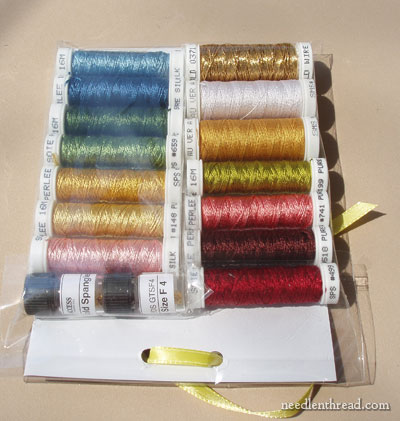 (It's a delectable little collection, isn't it?)
The Winner Is: Blanca!!!
Blanca's comment: Oh, if I win, I would relish the search for a lovely project, and then throw myself body and soul into it! (It's #30 on the 4th page of comments, in case you're looking.)
Congratulations, Blanca! Please contact me with your mailing address, and I will get this package on its way to you.
As usual, I wish I could send you each the collection. It's always hard to just pick one winner, but on the bright side, we'll do this type of thing again, don't worry.
If you're looking for the thread kit, you can order it through your local needlework shop, or online, you can find it at Hedgehog Handworks, where it's available with a 9″ x 9″ piece of Alba Maxima linen (from Legacy linen – really one of my favorite all time linens to work on – I did the blackwork fish on it, among innumerable other projects!) for $50 plus shipping; or you can order the thread kit only from the Embroiderers' Guild of America shop for $46 plus shipping. Non-members of the EGA can also order the current issue of Needle Arts Magazine from the EGA, for $7, by contacting them (it's not in the online shop).
Plenty of interesting stuff coming up this week on Needle 'n Thread – some project updates, some more kit talk, a book review, a pattern, some stitching tips and whatnot. I'm looking forward to the week, and I hope you are, too! Have a terrific Monday!