Because Easter is coming up, and because you're all such a swell bunch of readers, and because Access Commodities sent me this beautiful thread kit, and because it's rainy and gloomy in Kansas and I need to make my own sunshine….
because of all of that….
… and the fact that I somehow deleted the article I was supposed to post today….
It's time for a give-away!
Silk and gold threads are The Best, aren't they? And I think you need some!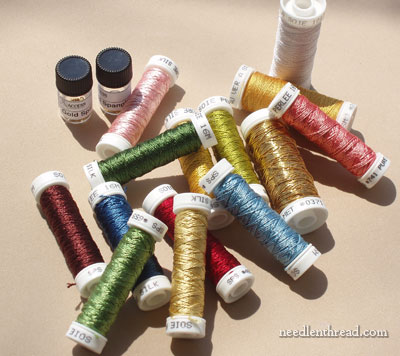 Besides, the colors are Springy.
This is the Agecroft Sweet Bag Thread Kit from Access Commodities, which I reviewed last week.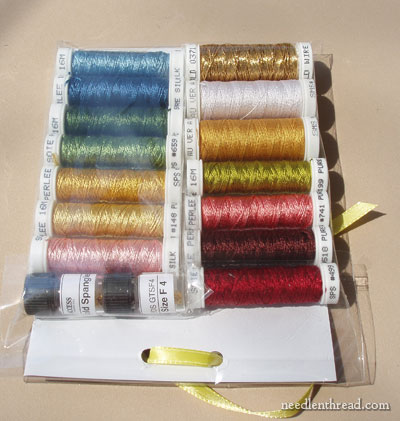 The kit comes with 13 gorgeous spools of silk and a spool of gold thread (#371 gold wire), and two bitty bottles of beautiful gold spangles.
Originally assembled as a kit for the Agecroft Sweet Bag featured in the EGA's Needle Arts Magazine, the thread collection can be adapted to myriad embroidery projects – the color palette is beautiful and the threads – oh! – they're just ….. *sigh* ….. the greatest silk. I love silk.
Here are the Rules for Entry:
1. Leave your comment on this post, on the website, not via e-mail or on any other post (you may go directly to the comment form on this post on the website by clicking this link – but only after you read the rest of the rules!)
2. Please answer the following question:
If you win, would you make the Agecroft Sweet Bag, or would you use the threads for some other purpose? (It doesn't matter to me either way – it's just a point of curiosity.)
3. Please make sure there's a recognizable name on your comment.
4. The give-away closes at midnight (CST), this Saturday, April 23rd, and I'll announce the winner on Monday morning.
The give-away is open to anyone, anywhere!
Now…. I'm off to find today's lost blog post! Enjoy your day!
Update April 25: The give-away is now closed! Thanks to all who participated!