The last couple days, I've been working out the details for the small rose motif that's repeated on the current ecclesiastical embroidery project I'm working on.
And really, when I say the last couple days, I mean just that – two days. Two! Sure, we're not talking about stitching 24 hours a day, but all my stitching time has been devoted to this one thing for two days, and – woe is me! – I haven't even finished the thing!
Now, this particular rose is not actually embroidered onto the design. This is just a test piece, to make sure I like the threads I've selected, and to work through the motif so that I can teach it to someone else. I want to make sure I've worked my way through any difficult areas so that I can guide the student through the tough spots more easily.
Testing is always important. But wow. It can eat up your stitching time!
Still – it's worth it!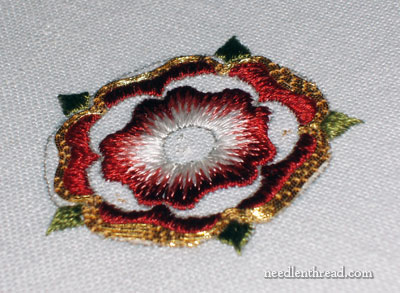 Given the last two cloudy days, I haven't had a chance to take a photo in the sunshine, so it's hard to catch the gleam of the gold and the silk. This photo's a bit better.
I'm working the motif with three colors of Soie de Paris – a dark brickish red, a rose, and cream. The color numbers are 2636, 2914, and creme. I could've gone with more shades of color in a different silk, but I like the look of Soie de Paris in long and short stitch and in satin stitch, and these three colors work well together. Besides, more than three colors would not have fit in the long and short stitch petals in the center. The rose is kind of small!
For gold thread, I'm using gold tambour thread #7, which is a synthetic thread, and non-tarnishing. It's a fine thread that's quite flexible and soft, so it fits into these small spaces well. The center will be filled with chip work encircled with pearl purl.
Hopefully, the rose will be finished before the sun goes down today. I'll show it to you when it's finished, and then take you step-by-step through working the piece.
Here's the scale of the flower. You can see that it's about 1.5″ from leaf tip to leaf tip. It's not microscopically tiny, but it's small enough!
Questions, comments, suggestions? Have your say below!