Today, I'd like to give you an opportunity to win a copy of Trish Burr's new book, Needle Painting Embroidery: Fresh Ideas for Beginners. (That link will take you to my review, if you'd like to read it.)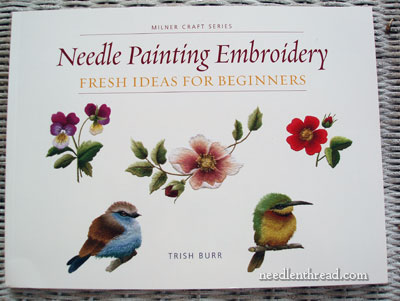 If you've wanted to venture into needle painting and try it for the first time, or if you've already tried it and love it, or even if you're an expert at needle painting, you'll want to add this book to your library. It's a combination instructional and project book, so it's perfect for beginners and beyond.
If you'd like to win your own copy, just follow these easy steps:
1. Leave a comment below (on this post, not via e-mail and not on any other post). If you use that link, it will take you directly to the comment area, so for e-mail subscribers, this is an easy way to get to the right place to leave your comment.
2. In your comment, tell me why you want to own this book! (Easy question!)
3. Please make sure your comment is accompanied by a recognizable name, so that when I announce the winner, there isn't any confusion. For example, if your name is Julie, there could be another Julie who wants to win the book – so maybe you could add your last initial, or the place you live, or something of that sort.
4. Leave your comment by Tuesday morning, August 30th, at 5:00 am (Central Daylight Time). I'll announce the winner some time on Tuesday morning. The winner will need to contact me with a shipping address.
And that's it! The contest is open to anyone, anywhere. So let the commenting begin! And good luck!