The Spanish Knotted Feather Stitch is such a pretty stitch! And it's really easy! As far as movement of the stitch goes, it's a combination of the twisted chain stitch and the feather stitch. It creates a pretty zig-zag line that takes gentle curves well.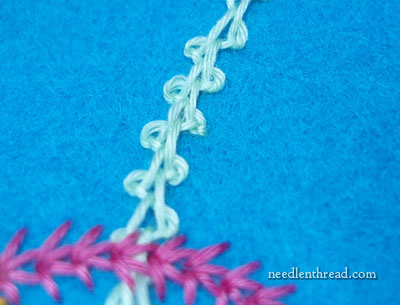 There are lots of applications for Spanish Knotted Feather Stitch. You can use it in regular surface embroidery for borders, to create jagged stems, as a decorative line for swirls and curves. You can use it as an effective seam treatment in crazy quilting. It's used in some Mountmellick embroidery projects. It's a versatile stitch, and worth adding to your stitching repertoire!
In the photo above, the aqua thread (which is floche, stitched on wool felt) is the Spanish Knotted Feather Stitch. The lower stitch, in bright pink, is the wheat stitch.
You can also check out this tutorial on how to change your thread in the middle of a line of Spanish Knotted Feather Stitch. Sometimes, it's hard to figure out how change to a new thread when you're trucking along on a line made with a more complex stitch.
Closing the Spanish Knotted Feather Stitch
You can also close up the spacing on the Spanish Knotted Feather Stitch, to produce a nice, rich, braided line that looks like this:
We discussed working the closed Spanish knotted feather stitch in the Stitch Fun series, including information on stitch size, line width, thread weight, and so forth.
Spanish Knotted Feather Stitch Video
Here's the video for the Spanish Knotted Feather Stitch (email subscribers, please visit the website to view):
You can find lots more how-to videos for hand embroidery stitches here on Needle 'n Thread, and over the next couple months, the collection of videos will be expanding! I'm also slowly switching out all the older videos with newer, cleaner versions. I'm always open to stitch requests, too, so if you have any, leave a comment below or e-mail me!
Hope you enjoy it!
Looking for inspiration & information on hand embroidery?
There are all kinds of reasons to sign up for the Needle 'n Thread daily newsletter! Check them out and sign up today!
If you like what you see on Needle 'n Thread, if you want to be a part of keeping the website thriving (and free of annoying network advertising), why not become a patron on Patreon? Check out my Patreon page here, where I'll occasionally add special needlework bonuses for patrons.
If you shop on Amazon, you can support Needle 'n Thread without any extra expense to you by visiting my Amazon Recommendations page here, where you'll find books and sundries for the needleworker available on Amazon.