I've been thinking about linen lately.
Ok, what's new? I think about linen a lot! I thought about linen here (different types of linen for hand embroidery and where to find them), and I thought about it here (5 things you need to know about hand embroidery fabric), and I thought about it some more here (when I was considering embroidering on antique linens).
So this is just another post about linen, right? Because, after all, I think about it a lot.
No, no! Wait! That's not it! Let me differentiate: Linen as opposed to linens. Linen The Fabric vs. Household Linen. See? There's a difference! And today, I'm thinking of the latter linens.
My mind has turned towards monogramming lately, and before I ever embark upon a Big Project in any particular technique – especially if I'm planning the project for the website, or for teaching, or for a kit – I like to study up on the various aspects of it: social history, background of techniques, materials involved, and so forth.
Which brings me to this book:
The Book of Fine Linen by Françoise de Bonneville is a big book. It's a beautiful book. And it is all about fine linen. I would call it a social history of household linens, more than anything else.
Yes, it's full of pictures, but it's even fuller of text – so it isn't strictly a picture book! The photos throughout the book are sumptuous and stunning. But the text – the text is where the meat of the matter is. Linen, traced through history, through art, through literature – linen as a mark of social status, the decoration of linen, the importance of linen in commerce and in industry and in matrimony, the evolution of linens, the care of linens, and on and on and on. It's all in here.
This is not a how-to book. It isn't a book that will show you how to monogram a sheet or how to wash and dry it, either! But it will tell you how, when, why, where, and by whom these things were done throughout history.
And it will show you little interesting bits, like the fact that, even before our "ready-made" era, monograms could be bought pre-made and applied to linens.
When I first came across this book (in a used book store) this is the photo that sold me on buying the book. I opened it to this page. And my heart melted into a heap of happy Linen Bliss. But amazingly, I never read the book! I looked at the pictures, read a few captions, and put the book on my shelf among all those other "I'll Read You Someday" books.
If you had seen this monogram, wouldn't you have bought the book?
But there is a time and a place for everything. Some things (and some people – like me!) need time to age and mature. Once upon a time, I bought a book for its pictures. Today, I appreciate the book for its words.
What kid doesn't go through that?
I'm learning a lot about linen. And what I am learning will help me to be a better embroiderer.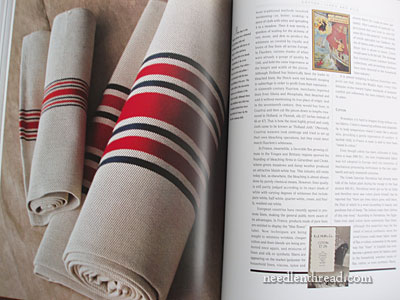 And by linen, I'm not talking about just linen. The Book of Fine Linens brings us all the way up to the age of cotton household linens and terry cloth towels. It's not a stuffy book. It's an appreciative book.
And it has a fantastic glossary in the back.
If you're a lover of linen, of textile history & social history, of monogramming, of beautiful fabric and knowing where it came from, you may very well enjoy this book – and for much more than just the photos! It's great reading.
The Book of Fine Linen is no longer in print. If you'd like to own it, try your favorite used book sources!