One of my favorite tools over the past seven or so years of stitching is the Evertite Stretcher Bar frame. Evertite Stretcher Bars are the Rolls Royce of stretcher bar frames for hand embroidery, and today, thanks to Evan Burroughs, the creator and manufacturer of Evertite Stretcher Bar needlework frames, you have an opportunity to win a set!
What makes Evertite stretcher bars my go-to stretcher bars for embroidery projects? The fact that they are adjustable. They are adjustable after the fabric has already been mounted on the frame! This means that you can mount the fabric, and then tighten or loosen the tension, without having to un-mount your fabric. This is a huge time-saver, and the ultimate in convenience, when it comes to using stretcher bars.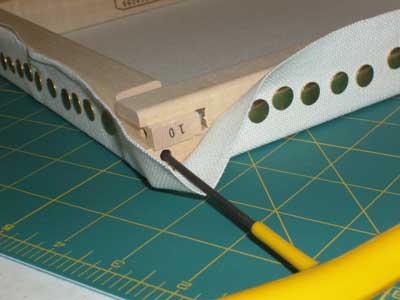 Using a T-tool, which is more or less an Allen wrench with a fancy handle, the little screws set into each edge of the bars can be lengthened to push the bars of the frame further apart.
This is an ingenious concept! I love these frames. I use them all the time for projects that are a bit smaller – like any of Trish Burr's kits, or Tanja Berlin's – and that will be on the frame for a while.
Evertite Stretcher Bars can be found through several different retailers online. I usually get mine from either Stitchers' Paradise or Needle in a Haystack. It's true that they are a bit more expensive than plain stretcher bars, but they last (and last, and last – I've been using various pairs over and over again for years), and save a lot of time. Plus, they are smooth and well-constructed, from wood that is soft enough to easily push the tacks in when mounting fabric. To me, they are definitely worth the slightly extra cost.
Today's winner will receive one whole frame (that's two pairs of stretcher bars), in whatever size you wish, from the standard sizes that are available. You can see what sizes the Evertites come in, by visiting this catalog page on the Stitchers' Paradise website. I would say the most useful sizes are anywhere from 10″ – 14″. You can mix and match, too. You might want a frame that's 10″ x 14″ – so if you win, you'd receive a pair of 10″ and a pair of 14″ bars to make up your whole frame.
Give-Away Instructions
1. Leave a comment at the end of today's article. If you click on that link, it will take you directly to the comment area, so that there are no mishaps! Comments delivered via e-mail or on other articles will not be included in the give-away.
2. In your comment, answer the following question:
When you stitch, what type of frame or hoop do you normally use? Or do you prefer to stitch in-hand, without a frame or hoop?
3. Make sure you leave a recognizable name either in the body of your comment, or on the "name" line above the comment box. For example, if your name happens to be Freddy, you might include a last initial or a location to differentiate yourself from any other Freddy that might join in.
4. Leave your comment before January 9th, 2012, at 5:00 am Central Standard Time (Kansas, USA!). All winners for this series will be selected on January 9th, and announced that day here on Needle 'n Thread. You'll have to check back on January 9th to see if you've won, because the winners will need to contact me within 3 days to claim their prizes. The Give-Away is Now Closed. Thanks for your interest!
Merry Fifth Day of Christmas!
Please do not panic if your comment does not show up immediately. All comments are moderated in the order in which they come in, and they will eventually be posted. If you are looking for your comment, please use the "older comments" and "newer comments" links at the top of the comments section. These will take you through all the comments pages, from newest to oldest.