A stitch dictionary is a Must on every embroiderer's bookshelf – whether you're a beginner or an experienced embroiderer. And Yvette Stanton's stitch dictionaries – The Left-Handed Embroiderer's Companion and The Right-Handed Embroiderer's Companion – are excellent choices when it comes to selecting a comprehensive, instructive stitch dictionary.
Today's give-away is one of these books – the winner's choice, actually – courtesy of Yvette Stanton of Vetty Creations.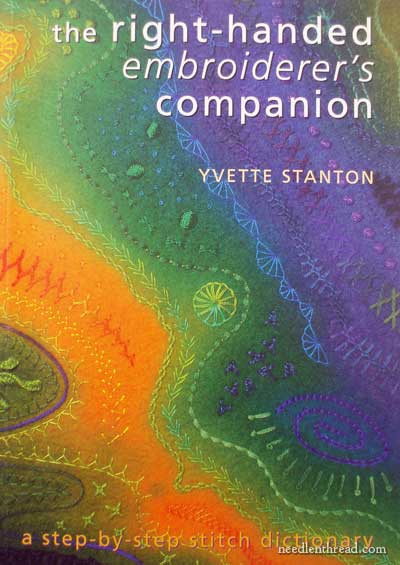 I've reviewed both books thoroughly here on Needle 'n Thread – you're welcome to visit the links below to my book reviews, but remember to leave your comment for the give-away on today's post, not on the book review posts! Here are the links to the reviews, where you can see what the insides of the books are like and read a bit about them:
The Right-Handed Embroiderer's Companion Book Review
The Left-Handed Embroiderer's Companion Book Review
Yvette Stanton writes beautiful and thoroughly instructive books, and you will find her stitch dictionary a perfect companion (just the title says) for your embroidery endeavors. She covers over 170 stitches and variations in each book, with directions written specifically for either left or right-handed embroiderers.
Besides her stitch dictionaries, Yvette has some other gorgeous books in various whitework techniques on the market. In fact, her business Vetty Creations is primarily targeted at whitework. There, you'll find supplies for techniques like Mountmellick whitework embroidery, which calls for a specific fabric (cotton satin) and a specific thread (matte cotton threads, not mercerized). You'll also find her other whitework books available there. She has written excellent books for instruction in Hardanger embroidery, Mountmellick embroidery, and Ukranian drawn thread embroidery.
But… Yvette's not finished writing books! Oh, no! Captivated by a Portuguese style of embroidery involving drawn thread and incredible bullion knot motifs, Yvette has ventured into her latest book, Portuguese Whitework: Bullion Embroidery from Guimarães, which has not been published yet, but promises to be an absolute stunner.
If you can judge a book by its cover – and in this case, trust me, you can – you'll be looking forward to this book as much as I am. Between you and me, I've already had a little sneak peek at the insides, and it is everything – and more – that the beauty of the cover promises!
Give-Away Instructions
Today's sixth day of Christmas give-away is the winner's choice of either The Left-Handed or The Right-Handed Embroiderer's Companion. If you've already got the books on your shelf and you win the give-away, you can always gift one to a stitching friend, or even to a local library, so don't be shy about signing up! Please follow these (simple) instructions:
1. Leave a comment at the end of today's article. If you click on that link, it will take you directly to the comment area, so that there are no mishaps! Comments delivered via e-mail or on other articles will not be included in the give-away.
2. In your comment, answer the following question:
Lefty? Or Righty? And has it made a difference to you in learning embroidery?
3. Make sure you leave a recognizable name either in the body of your comment, or on the "name" line above the comment box. For example, if your name happens to be Lefty, you might include a last initial or a location to differentiate yourself from any other Lefty that might join in.
4. Leave your comment before January 9th, 2012, at 5:00 am Central Standard Time (Kansas, USA!). All winners for this series will be selected on January 9th, and announced that day here on Needle 'n Thread. You'll have to check back on January 9th to see if you've won, because the winners will need to contact me within 3 days to claim their prizes. The Give-Away is Now Closed. Thanks for your interest!
Merry Sixth Day of Christmas!
Please do not panic if your comment does not show up immediately. All comments are moderated in the order in which they come in, and they will eventually be posted. If you are looking for your comment, please use the "older comments" and "newer comments" links at the top of the comments section. These will take you through all the comments pages, from newest to oldest.