Welcome to the Fourth Day of Christmas Give-away! All you crewel embroidery enthusiasts out there will love this one – it is a combination give-away, from Wooly Thread and from Talliaferro Designs. It's for the whimsical embroiderer and for the serious embroiderer, all rolled into one.
Today's give-away is one gift, in two parts: a Wool & Hoop crewel kit from Wooly Thread and the latest (and not yet out) Talliaferro Design kit, Paradiso I.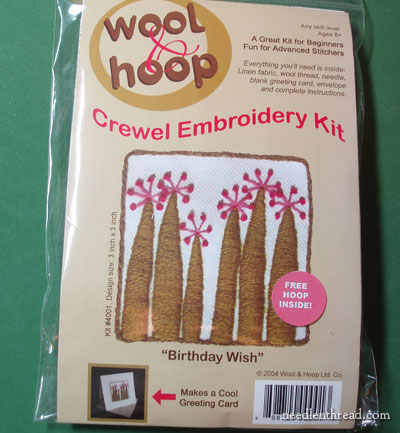 This Birthday Wish Wool & Hoop kit from Wooly Thread is a complete kit, from fabric, to hoop, to wool, to needles – and instructions – for a 3″ x 3″ fun pattern of funky birthday candles. The finished product is modeled as a birthday card. It's a fun and quick little project!
You can find all the Wool & Hoop kits available at Wooly Thread – they're fun, a bit funky, and quick to work up! They make cute little accents, or they can be used in other applications (like card-making).
Then, when you're in the mood for something more challenging and elegant, you can move on to Paradiso I, the newest Talliaferro Design which will be released after the first of the new year some time. Like the Royal Persian Blossom design released earlier in 2011, this is a design & instruction kit. That is, it contains the design and step-by-step instructions for the completion of the design. It doesn't include fabric or thread. The thread used in Talliaferro Designs is Appleton wool, available through Wooly Thread. Paradiso I is quite a bit smaller than the Royal Persian Blossom design, at 8.25″ x 9.5″, and the stitches are not as complex, but the results are exquisite. The taupes and the blues work beautifully together! Some of the stitches involved: Chain stitch, French knots, buttonhole, long and short stitch, satin stitch – so plenty of variety, but nothing too daunting!
Paradiso I will be available some time after the beginning of the year, from both Talliaferro Design and from Wooly Thread. Wooly Thread will probably carry an Appleton color pack for the kit, as well. I know they carry a color pack for the Persian Blossom design, so hopefully they'll have one for Paradiso I as well! (Update: Wooly Thread has Paradiso I and Appleton wool packs on the site and available now!)
Today's winner will receive both kits – the Birthday Wish kit from Wooly Thread and Paradiso I from Talliaferro Designs. To enter today's give-away, please follow these simple instructions:
1. Leave a comment at the end of today's article. If you click on that link, it will take you directly to the comment area, so that there are no mishaps! Comments delivered via e-mail or on other articles will not be included in the give-away.
2. In your comment, answer the following question:
Some self-analysis: are you a Wool & Hoop kind of stitcher, or a Talliaferro Designs kind of stitcher? Or a combination of both? Both crewel design companies have a completely different look and feel – which one characterizes you the most, or do you identify with both?
3. Make sure you leave a recognizable name either in the body of your comment, or on the "name" line above the comment box. For example, if your name happens to be Holly, you might include a last initial or a location to differentiate yourself from any other Holly that might join in.
4. Leave your comment before January 9th, 2012, at 5:00 am Central Standard Time (Kansas, USA!). All winners for this series will be selected on January 9th, and announced that day here on Needle 'n Thread. You'll have to check back on January 9th to see if you've won, because the winners will need to contact me within 3 days to claim their prizes. The Give-Away is Now Closed. Thanks for your interest!
Merry Fourth Day of Christmas!
Please do not panic if your comment does not show up immediately. All comments are moderated in the order in which they come in, and they will eventually be posted. If you are looking for your comment, please use the "older comments" and "newer comments" links at the top of the comments section. These will take you through all the comments pages, from newest to oldest.