It's time to announce the two lucky winners of Carolyn Pearce's new book Home Sweet Home: An Embroidered Workbox!
Besides announcing the winners, I've got a wee bit of exciting news for you, so read on!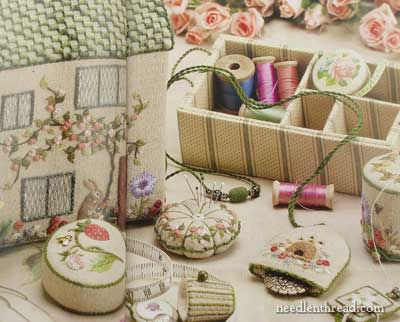 First of all, to clarify the comments format – I've had a few e-mails from readers who haven't been able to find theirs on the first page. At the beginning of the comments list right after the original give-away article, you'll see a link that says "Older Comments." If you keep following that link, it'll take you through all the pages of the comments. Each page only shows 99 comments. There are 8 pages of comments, and if you commented, I promise it's in there somewhere!
Well, two of you will certainly have your work cut out for 2012 – I hope that you make the Whole Box, and all the pretty little things in it!
The winners are:
Erin Deal, who said: I loved the projects in the book, they are so amazingly beautiful. What I liked best though is that it includes the lift out patterns. What a thoughtful inclusion.
and
Susan R. in WV, who said: Oh, my goodness, this is just the most charming little sewing box I've ever seen! I don't know if my skill level would allow me to tackle the main event, which is absolutely my favorite part! But I would certainly give the lovely little pin cushion and tape measure cover the old college try! You know how certain somethings just hit you and take your breath away? That's the reaction I had to this book. Just lovely and so very intriguing! This would be a delight to own. Many thanks for the opportunity to win one!!
Congratulations, Ladies! I know you will love the book! Please contact me with your shipping address, and I'll put those in the mail this week!
Thank you again to Country Bumpkin for supplying the books for this give-away!
If you didn't win, don't fret!
Why not? Well, for one reason, you can add the book to your Christmas wish list and coerce your loved ones to get it for you, or else…! For another, you never know – this title may turn up again on future give-aways!
The 12 Days of Christmas
And speaking of future give-aways, there's a fantastic series coming up here on Needle 'n Thread, and I want you to hear about it from me first!
The series is called "The 12 Days of Christmas," and it is definitely a series of giving.
(Don't worry – you won't end up with seven swans a-swimming in your backyard.)
Without giving too much away at this point – because I want to delight and surprise you each day – I'll tell you this much: all those embroidery-related things you wanted for Christmas, and didn't get? That's right! Every kind of delightful Needlework Thing will be featured over the 12 days: from beautiful threads and fabrics to gorgeous, unique tools & accessories, to kits, to books, and much, much more – all contributed by generous folks in the needlework industry who want to give back to you!
The series will run over the 12 Days of Christmas, and trust me, you won't want to miss it. Heck, I don't want to miss it, I'm so excited about it! I think it's a great way to celebrate Christmas.
One way to make sure you don't miss The 12 Days of Christmas series is by subscribing to Needle 'n Thread, either via my daily e-mail newsletter (the most reliable way to not miss anything – you'll receive each day's post in your inbox) or via a feedreader. You can find both options at the top of the right column here on the website.
Join me for this – it'll be a lot of fun!
Tags