The Thimble – it is a humble little tool that's been around for a long time! Did you know the earliest archeological thimble-finds date to the 1st century AD? So it's a little tool with a long history, and throughout the thimble's history – whether made from ornate, precious materials or simple wood or leather – the thimble's Ultimate Goal has been to protect the fingers of people like you and me.
And that is a Noble Goal.
But there are lots of people out there who don't use thimbles. I was one of them. I didn't learn to stitch with a thimble, so at first it was pretty awkward getting used to working with one. This is the thimble that I use when I use a thimble, and I've gotten a whole lot better at using it.
But when I came across Thimble Pads the other day, I thought, "Why not? I'll give them a try."
And I did give the weird things a try. These are my impressions.
This is the concept: a small, round leather pad that's Super-Duper Sticky on one side, that you stick onto your "pushing" finger (which is normally the middle finger of your stitching hand), to protect from the eye of the needle slipping into your skin.
They come in packages of 12 little sticky pads, and they are supposedly re-usable ad infinitum, or until they lose their stickiness, which apparently is next to never? At the end of a stitching session, the package prompts the user to remove the thimble pad and stick it somewhere on the frame or workplace, to use next time you visit the project. Think of it, in a sense, as a child thinks of bubble gum – you might have to take it out to eat your dinner, but you want to get more chew out of it later, so you tuck it away somewhere for a bit. That's the concept.
I have always had an aversion to things that stick to the skin. I think I invented band-aid-aphobia. But I was willing to give these things a try, because they do promise the protection of a thimble without the inhibiting mass of the thing on the finger.
Boy, golly. These things take "skin sticking" to a whole new level. They stick to the skin. Serious peeling is required to get the things off. On the "pro" side, they don't leave any residue. But I'm surprised they don't separate the skin from all that's underneath it during the removal process.
Though they seem unobtrusive when compared to a full-fledged thimble, the thimble pad does take getting used to. I found myself having to "retrain" the movement of my hand, in order to aim for the target of the thimble pad. It's a good enough sized target, that little leather circle, but nevertheless, you don't want to miss the target when you're expecting protection from the eye of the needle. So you have to get used to wearing the thing, just like you have to get used to wearing a thimble.
Does the thimble pad work? Yes, it does. It provides the finger with a layer of sturdy protection suitable for pushing the needle out of the fabric, just as it promises.
And I was just contemplating the fact that it did work as promised, even though I wasn't really keen on the whole stick-on thimble, when I ran into a definite problem that turned me off thimble pads for life.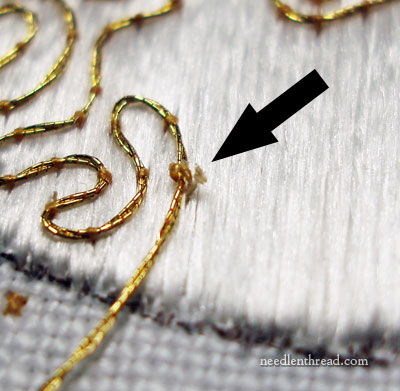 They are kind of suede-y, hairy leather, and they have a serious shedding problem. Tiny bits of leather flaked all over my embroidery surface and got caught in my couching threads before I realized I had a Situation. I had to employ a careful pair of tweezers to remove the bits of leather from the un-couched flat silk and to wrestle the bits out of the couching thread where they were caught. And the leather stuff doesn't just blow off, either – it sticks to the silk as if it has found its life-long mate!
So, Thimble Pads, the Upshot:
1. Yes, they work.
2. They still take getting used to.
3. They stick like the dickens to your finger (which is what they promise – but it's not necessarily a pleasant thing).
4. They shed somethin' fierce.
I can see using Thimble Pads for certain sewing applications – I think they'd probably be great for hand quilting and for working on items that can be washed or brushed with a certain amount of vigor. For fine embroidery applications, if you need finger protection, I'm inclined to say the Thimble Pad isn't quite the way to go.
Any input? Have you discovered any thimble-esque tools that you consider indispensable in your embroidery pursuits? If you'd like to join in with some thimble-chatter, feel free to leave a comment below!