When working any hand embroidery project – but especially a big one that's going to take a lot of time and a good quantity of specialty threads – the rule of "better too much than too little" should apply when ordering your embroidery supplies.
At the same time, though, to keep the costs of the project reasonable, you don't want to over-estimate your thread amounts too greatly, or you could end up with surplus threads that you don't need or want. (Well – are there ever any threads we don't want?!)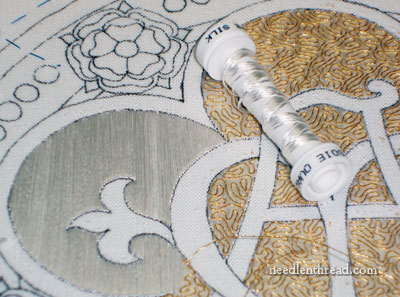 Why too much rather than too little when ordering threads for a big project? There are a couple reasons that jump out at me, and you may know of more reasons from your own stitching experiences.
My reasons: 1. Dye lots: It's always better to order a quantity of threads in the same dye lot. If you're working on a project that takes a year or so, and you end up running out of thread and having to order it some time later, you can't be absolutely guaranteed of an exact color match. 2. Breaking your rhythm: If you get up a good head of steam and are really making way on your project, there's just nothin' worse than runnin' out of thread!
When preparing for the Medallion Project, I estimated I'd need four spools of flat silk for the background. I'm using Soie Ovale, which is a flat silk produced by Au Ver a Soie. (You can see some up-close photos of Soie Ovale in relation to other silk in this flat silk thread comparison article I wrote a long time ago.) Soie Ovale comes on a 15 meter spool. It is a "single strand" thread – you use the whole strand as it comes off the spool, rather than splitting it into smaller strands. So on each spool, you have 15 meters to stitch with.
The whole background filling took almost three spools of the flat silk – so just short of 45 meters. On the third spool, pictured in the photo above, where was a little bit of silk left. I wasn't too far off in my estimate, and I was glad of the padding, too, because you never know what mishaps may occur! I did waste part of a strand during stitching – about 10″ worth – when I snagged the strand on the zipper of my sweater. It was past reparable – and I learned what not to wear while stitching with flat silk!
Now, quantity-wise, I know that designs of approximately this size, with this amount of coverage, will require around three spools of Soie Ovale. I'm sure I'll write that down somewhere, so I don't forget!
In the meantime, if you're keen on working a similar design, you now know that you can get away with ordering three spools of Soie Ovale rather than four – not that I'm at all opposed to having an extra spool of silk lying around for the next project!
If you'd like access to all the tips and techniques discussed in the Medallion Project, including complete step-by-step coverage of the Tudor-Style Rose, conveniently collected in one document, interlinked, referenced, and indexed, why not add the Marian Medallion Project e-book to your library? It's packed full of all kinds of embroidery tips for undertaking a project like this, all in a convenient electronic format for easy searching.