Once upon a time, there was a hungry tortoise. Roaming the woods and fields, he came to a stony path. In the middle of the stony path, there rested a great strawberry – the greatest strawberry the hungry tortoise had ever seen!
So, he opened his mouth Veeeeerrrrrry Wide….
… and he ate it!
This little needlepainting project is by Elza Bester DeJager of South Africa. It is such a whimsical and unexpected little piece, that I was immediately charmed by it and had to share it with you!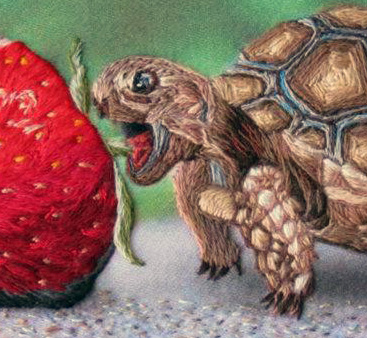 Elza explained that she found the photo on Facebook – one of those ever-circulating funny photos. Right away, she knew she wanted to embroider it. See – you can find inspiration anywhere!
Elza printed the photo on pre-treated fabric sheets from C. Jenkins, and then she embroidered over the parts of the picture that she wanted to highlight – the tortoise, the strawberry, and the stony path.
Using stem stitch, straight stitch, seed stitch, and long and short stitch and working with stranded cotton and #40 Madeira sewing machine thread, she brought the picture to life in a whole new way!
I love, love, love the little underarm wrinkles in the photo above! They are the Essence of Turtle!
The toes on the tortoise's back leg are perfect turtle toes, too.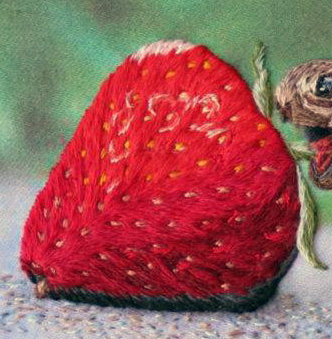 And the strawberry? It's gorgeous! You can't blame the tortoise for wanting to sink right in, can you?
This is a perfect example of finding inspiration for embroidery all around us. And the picture is so fun – light and humorous and cleverly stitched. It just made me smile – and I hope it put a smile on your face, too!
Thanks, Elza!