The vermicelli goldwork on the Medallion Project is finished!!
To celebrate, I'm going to show you the back of the embroidery, because, for some reason, people like seeing the back of other people's embroidery. I've never quite understood why, but if that's what you want….!
First you have to look at the front. It's much more attractive.
There's the front. I'm not sure why I didn't end those two gold threads that are sticking out before I took the photo, but alas. I didn't.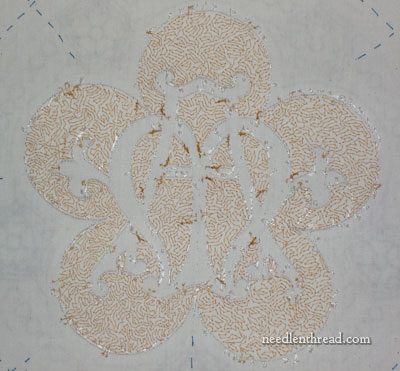 This is what the back looks like. All those dark bits are where the gold threads are begun or ended. You can see how to secure the gold threads on the back in this tutorial on ending couched goldwork threads.
Notice that you don't see much silk – just around the outline of the design. You can find out why this is by reading this tutorial on laying flat silk threads in a surface satin stitch.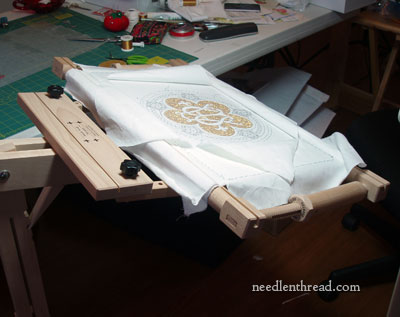 To give you some perspective on size, you can see the my stitching set-up here, and all my surrounding mess!
And a little closer in from this angle gives a sense of the monogram design and the gold background.
And so, the background is finished! You are welcome to jump up and down in Exuberant Joy and Elation with me!
And now it's time to move on to the monogram.
I received quite a few questions in the last couple days about this project. I'm looking forward to answering all your questions soon – but I'm not near a computer this weekend (makes you wonder how I'm doing this, doesn't it?). I'll get to your questions at the first of the week!
In the meantime, if you want to follow this project step-by-step, you can visit this collection of articles about the Medallion project, which are all arranged in chronological order.
Have a jolly weekend – see you Monday!
If you'd like access to all the tips and techniques discussed in the Medallion Project, including complete step-by-step coverage of the Tudor-Style Rose, conveniently collected in one document, interlinked, referenced, and indexed, why not add the Marian Medallion Project e-book to your library? It's packed full of all kinds of embroidery tips for undertaking a project like this, all in a convenient electronic format for easy searching.