At the end of this past February, I reviewed Hazel Blomkamp's new book, Crewel Twists. Hazel's book is a technique and project book. She combines designs that you'd normally see worked in wool in crewel embroidery (many Jacobean in flavor) with various surface embroidery techniques, including embroidery with regular floss, bead embroidery and even goldwork. The projects in the book are wonderfully colorful and a heap of fun!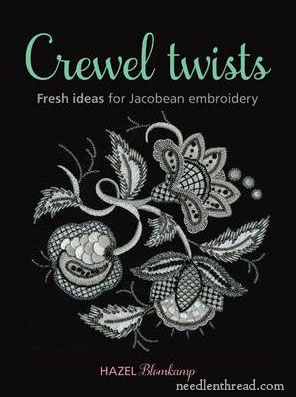 Well, today, I'm giving away a copy of Crewel Twists, courtesy of Hazel and even signed by her!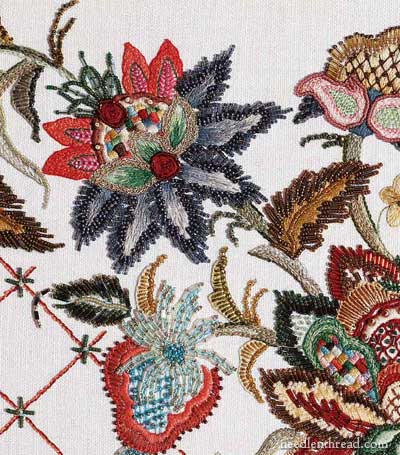 If you've already purchased the book, you can always enter for a chance to win the perfect gift for a stitching friend, right? And if the book is on your wish list, here's your chance to see your wish fulfilled without working it into the budget!
If you're not sure what the book is all about, do take a look at my in-depth review of Crewel Twists, replete with photos and a whole rundown on what's in the book.
To join in on the give-away, please follow these simple instructions:
1. Leave a comment below (on this post, on the website – not via e-mail and not on any other post on the website). If you use this link, it will be easy to go directly to the comment form on the website.
2. In your comment, please answer the following question:
What appeals to you most about Crewel Twists? The designs, the color choices, the techniques – the beads, goldwork, etc? Or all of it together?
3. Please make sure you leave a recognizable name associated with your comment, either by signing your comment, or in the "name" line on the comment form.
4. Leave your comment before 5:00 am, Monday, April 16th. Check back on Monday to see if you've won, as the winner will need to contact me with a shipping address.
That's it! Easy-peasy – and your name is in for a chance to win the book!
Today, I'll be stitching like a mad woman on the Medallion project, until later this afternoon, when I have to hit the road for a quick trip to the city (that's Kansas City – which, in my Limited Cornfield World, really is THE city – and it's far enough away to feel like a major excursion!). So if your comment doesn't show up right away, don't worry! It will eventually! I moderate each comment individually before posting to the site, to guard against spam.
Tomorrow, I'm going to show you a storage solution for my threads, along with some threads situated in that storage solution. It's a "long haul" solution. I figure if I'm going to be doing this needlework thing for a while (and I am!), I need my threads to be organized, accessible, and safe.
Best of luck on the give-away!! Now – go leave your comment!
See you tomorrow!