When doing goldwork embroidery that involves plunging threads, I admit that I've always been a Plunge-Sooner-Rather-Than-Later kind of gal. Being this kind of Plunger has both its advantages and its disadvantages. Recently, though, I've converted (or revolted), and now I'm a Plunge-Later. This is how things went:
Take a look at the goldwork above. It's getting a bit hairy, isn't it? All those loose ends need plunging. I've always plunged my goldwork threads section by section – so, technically, in the photo above where you can see all those loose ends sticking out on each petal, that's not really Me. Me would have plunged the threads belonging to each petal, so that the surface of my work didn't build up with too many hairy loose ends.
The Plunge-Sooner stitcher has the advantage of a much neater, less confusing work surface. The chance of the working thread getting caught up in loose ends is greatly reduced. Each section arrives at a finished look sooner, imparting a certain sense of satisfaction and completion.
And this is all well and fine. But the Plunge-Sooner stitcher has the disadvantage of Frequent Interruptions. And Frequent Interruptions can be the catalyst for Stitch Madness, a disability well worth avoiding.
Imagine it: there you are, stitching along, happily couching little pairs of gold threads, developing a certain stitching rhythm, when all of a sudden, you have to stop stitching, plunge all your threads, turn your work over, switch to that magical, wonderful, best-loved, life-saving Curved Needle, overstitch all the the plunged ends, cut your thread, cut a new thread, wax it well with beeswax, thread up your regular stitching needle, and set out all over again, couching your next section of gold thread. Just when you're getting into that soothing stitching rhythm, your Plunge-Sooner Mechanism kicks in, and the whole process starts all over again.
*Sigh*
It is ever thus, if you are a Plunge-Sooner.
The Plunge-Later stitcher has a different set of problems to face. When things start looking like this, you can't help wondering What the heck is this mess? And how the heck am I going to get out of it?
But on the bright side, getting into the mess was awfully easy and pleasant – you just couched and couched and couched, developing a great stitching rhythm and moving along at a rapid pace. Remember? Oh, it was wonderful not having to stop to plunge all those hairy ends!
Despite the ever-growing maze of threads, you really did make great time couching all those threads! And you didn't have to stop and start and start and stop, cutting old threads, waxing new ones. You just Stitched. You were, in fact, a stitching fiend and you really felt as if you made Progress.
Oh, bliss! Oh, joy! you cry to yourself. I have made Progress!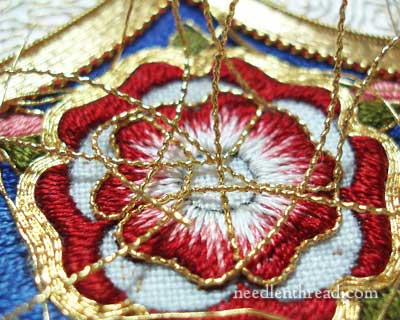 And then you look at your progress. You begin the Which-Thread-End-Gets-Plunged-Where Game. It takes a bit of sorting, but eventually, all threads are poking out on the other side of the fabric.
What happens on the backside? There, you can secure your threads in bunches. You'll be careful, though, so that you don't bulk up great wads of thread on the back. You'll keep your bundles of threads relatively neat and sedate. And when you've finished, you'll realize that you actually stitched down all those cantankerous thread ends a Whole Lot Faster than you would have, had you worked them over two at a time.
Suddenly, you find that you have converted. You are no longer a Plunge-Sooner. You are a Plunge-Later, and you are much happier for it!
And then you start the whole process over again.
Points to Consider when Plunging Goldwork Threads
There are times when plunging sooner rather than later is the way to go, and there are times when you can get away with plunging a Whole Lot Later. A few things to keep in mind when deciding whether to plunge sooner or to plunge later:
1. If the threads on the front of your work get too out of hand that you can't keep them sorted, or that they are constantly catching your working thread (that's the thread you're couching with), you may want to take a break from couching and plunge those suckers to the back. Get them out of the way! Make sure, though, that you secure the thread ends right after you've plunged them. Don't make the mistake of plunging them, and then continuing to couch on the front, while all those hairy ends are sticking through to the back. You'll make a Huge Mess on the back of the fabric if you do that.
2. If you decide to plunge later, make sure that the bundles of threads on the back are not so thick that they create a ridge that will cause a bump that will effect the front of your finished piece. Lay the threads out a bit and secure them in little bundles rather than in one big fat bundle.
3. If you decide to plunge sooner, you can speed up the turn-around time by waxing several threads and threading several needles ahead of time, so that at least you can switch to your new thread quickly.
What about you? Can you see certain advantages or disadvantages to plunging at different stages of work? If you do goldwork (or any other kind of embroider that requires plunging threads), when do you plunge? Or if I have confused or befuddled you, do you have any questions or would you like clarification on any of the above? Feel free to use the comment form below and have your say – I'm all ears!
If you'd like access to all the tips and techniques discussed in the Medallion Project, including complete step-by-step coverage of the Tudor-Style Rose, conveniently collected in one document, interlinked, referenced, and indexed, why not add the Marian Medallion Project e-book to your library? It's packed full of all kinds of embroidery tips for undertaking a project like this, all in a convenient electronic format for easy searching.