Here's a bit of embroidery inspiration for you from Judith, a reader here on Needle 'n Thread. I love this, and I think it's a terrific idea for a hand embroidery project.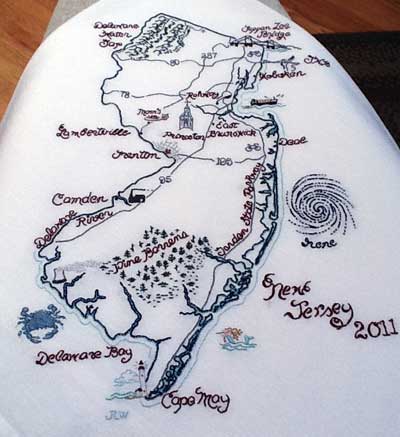 As a Christmas gift for her daughter and to commemorate their home state of New Jersey, Judith embroidered this towel with a map of the state, which included all kinds of special-interest details on it.
You can see the Tappan Zee Bridge there in the background – love it!
There's the lighthouse at Cape May! And in the water just off the eastern shore – I think that's the official New Jersey Mermaid.
Central New Jersey is marked out with notable places, like Princeton. And Mom's!
Judith is organized and diligent when she works a project! Here, you can see all her sketches, along with her thread color card.
She even keeps thorough notes on each project she works. This note-keeping on embroidery projects is a good, good lesson. It makes recreating a project (if you ever want to) much easier, and good notes can often serve as a spring-board for other projects.
Judith's best tip on embroidery projects: when you're finished with a project, take it somewhere and have a full-sized color photocopy of it made. That way, even if you give away the project, you always have a clear record of it. You could also use a good digital camera and have a large high resolution print made of a good photo of the project – just as long as you have something tangible to put in with your record of the project.
I thought you'd enjoy seeing this project, because it inspires on several levels: 1. the idea is great – a personalized map of a significant place in one's life would make a very special gift; and 2. the organization and method behind the project is a good lesson for all of us!
Thanks, Judith, for sharing your photos! And congratulations on completely such a fun and fabulous project!
You can see many examples of Readers' Embroidery Projects here on Needle 'n Thread. If you've finished a project recently and would like to share photos, drop me a line – it's so much fun to see what other stitchers are up to!