Lately, I've been playing a lot – probably too much. There's some serious work going on in my stitching world, too, but what's been occupying me most pleasurably is the whole notion of Play.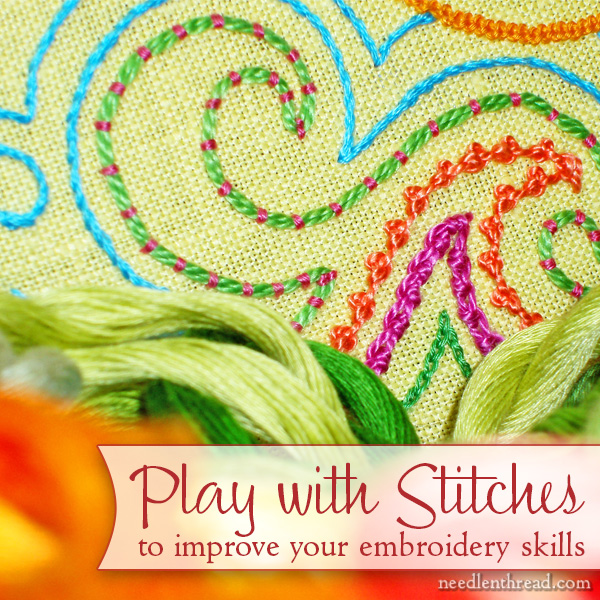 See, hand embroidery stitches are amazing toys. They are just plain fun to play with!
If you've not experienced the pleasure of figuring out a stitch and making it work and making it look right and trying it with different threads and in different combinations and different variations, and doing all of this in a completely random manner, with no specific design to follow – then I think you're missing one of the greatest pleasures afforded by the stitch.
All of this playing, of course, is closely akin to "practice." When you were seven years old and didn't want to sit at the piano for a half an hour a day, "practice" was a Bad Word. Now that you're an adult, do you sometimes feel as if "play" has become a bad word? Well, then! Just swap it for "practice"!
This type of stitching is definitely playing, but at the same time, it serves the purpose of practice. It revives your repertoire. It engages the imagination. It gets the juices flowing. It's good for you, and it's good for your embroidery.
And if nothing else, it helps reduce that stash of old threads, to make room for new ones!
So that's one excuse for the play I'm engaged in these days.
There's another excuse for all this play, though. Besides working up some articles for the Stitch Play series, I've been updating the How-To Videos here on Needle 'n Thread (finally). These stitch samples work great for illustration.
This week, I've replaced a few videos in the collection, with many more to come in the next few weeks, until all the old videos (which were made when video on the internet was just beginning to boom) are updated. In addition to the updated videos, I'm adding quite a few new stitches to the collection, along with a couple other useful surprises. This week, I replaced the following videos: Palestrina stitch, running stitch, colonial knot, and buttonhole stitch. I've got five more replacements to roll out over the next couple days, plus some new stitches that I'll be adding to the collection over the next week. The new videos are HD, and will play on your iPads, iPhones, and similar devices. I probably won't announce every update here on the website, so if you want to keep informed on the new video updates, you can subscribe to my channel on YouTube if you like.
Embroidery is FUN. May we never lose sight of this fact!
Have some fun this weekend with your needle & thread!
Looking for inspiration & information on hand embroidery?
There are all kinds of reasons to sign up for the Needle 'n Thread daily newsletter! Check them out and sign up today!