Turkey work (or Ghiordes Knot) is an embroidery technique that creates a thick carpet-like pile on the fabric. It's great fun, and it's a wonderful way to create, for example, animal tails.
Sometimes, though, before the Turkey work is brought under control with a good haircut, it can look a bit like your whole thread stash, gone haywire. The photo above is a good example. This was worked by Anna, and this is how the conversation went:
Me: Wow, Anna, it looks like those loops are a bit long.
Anna: It makes it easier to hold the loops out of the way.
45 minutes later:
Anna: I'm running out of thread.
Me: No, really?
I have to admit, once the thread was trimmed, the tail looked pretty good.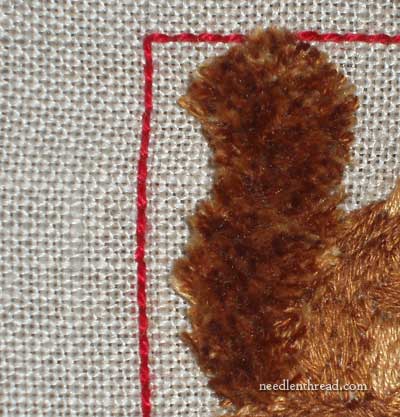 I'll show you the rest of this a bit down the road – he needs a bit of tweaking.
This little bunny, embroidered in Fine D'Aubusson wool and situated in a 1.75″ circle, has a much more modest Turkey work tail. Doesn't she look content?
If you're ever stitching up a wee animal, consider Turkey work for the tail. It's a lot of fun!