I've updated a few more embroidery stitch videos here on Needle 'n Thread lately – not as many as I would like to have updated by now, but there will be a few more revised videos and some new stitch videos rolling out again in the near future. These are the recent revised videos and new additions that have been added to the collection. I hope you find them useful!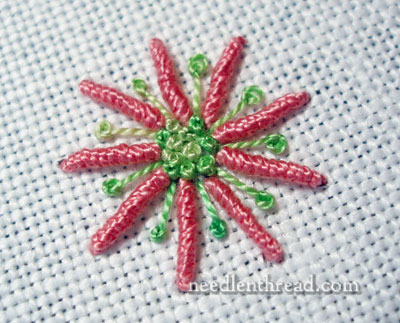 The bullion knot video has been updated, finally. This version is a lot clearer, as far as video quality goes, plus I've strayed a bit from the typical instructions for bullions that you'll see in books and I've shown you instead how I do it. I think it's a lot easier, especially if you're working in a hoop or frame.
Bullions and other dimensional stitches are usually the most difficult for me to record on video. I like to have the camera fairly close to the surface of the fabric so that you have a good view of what's going on, from the same angle that the embroiderer would see it when working. But the close camera poses difficulties when I have to get my fingers in there! Not to mention that every single flaw on one's fingernails and skin is magnified – my hands look like they belong to a scaly monster.
(Maybe they do…)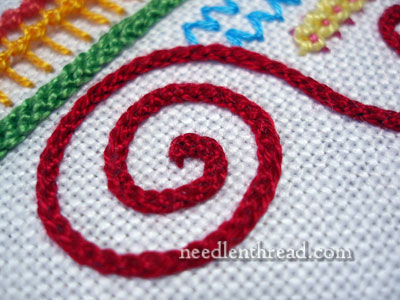 The Hungarian Braided Chain Stitch is new to the collection. I love, love, love this stitch for a nice textured braid or heavy line. If you haven't tried it yet, do! It's fun, and it works up quickly with satisfying results.
The Heavy Chain Stitch video has been rejuvenated as well. This is a terrific stitch for a more solid chain stitch line. The line ends up looking like a flat fishbone-type braid. I often use this stitch for lettering, because it makes a nice, precise line.
The Cast-On Stitch is new to the stitch video line-up here on Needle 'n Thread. This stitch was a long time coming, and its faithful counterpart, the double cast-on stitch is presently in the works.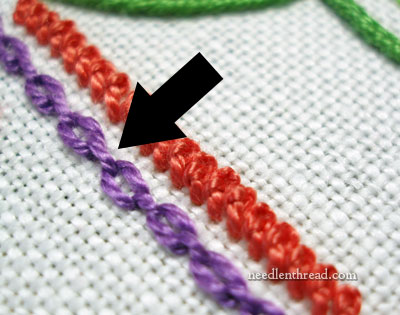 I updated the cable chain stitch last week, too. This is a quick, easy variation on the chain stitch, that produces a linked line that looks like a real chain rather than a braid.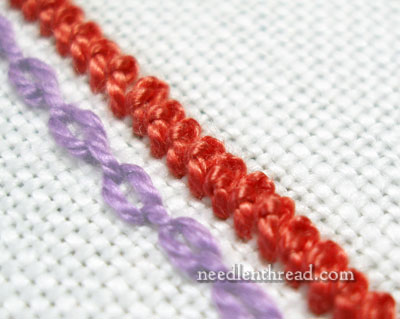 Finally, the Chinese Knot is a new addition to the stitch video collection, too. This is a versatile stitch with lots of variations. It works well in isolation, or worked close together to form a textured line.
So those are the recent updates to the embroidery stitch videos here on Needle 'n Thread. I've got plenty of other videos in the works, including many that you've requested over the last couple months. My goal is to have all the old videos in the collection replaced by the end of this summer (which gives me one more month!) and to have a good selection of new stitch videos available for you at the same time. The whole process has made for a busy summer!
In the meantime, I have two "Big Projects" underway that I'll be sharing snippets of over the next couple months. And during August (or so the plan goes), there's a collection of little projects that I'll be making available to you, as well.
I hope your summer (or your winter, depending on your global orientation) is going well and that you're enjoying some time for needlework! Would love to hear what you're working on – feel free to inspire us and leave a comment below!