Remember Blissful Beginnings: Embroidered Blankets to Cherish? I reviewed this beautiful book of embroidered blankets earlier this month – and now, thanks to Country Bumpkin, I'm giving away two copies!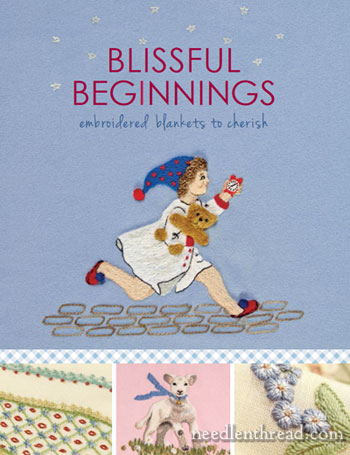 The Really Grand Thing about this give-away is that the book is not quite released to the public yet. That means I'm giving a copy away to two people, before the rest of the world has the book! Just think, you may be one of the first people in the Whole Wide World to clap eyes on this book!
This also means that, if you win, you're guaranteed to have your copy before Christmas. It can be your own coveted Christmas present to add to your own needlework library, or you can give it as a gift!
If you'd like to read in detail what's in the book and see some of the gorgeous projects that you can create with your needle and thread, do take a look at my review. All the details are there for you.
How To Enter the Give-Away
The comments are closed for this give-away – thanks for participating!
To enter today's give-away for a chance to win one of two copies of Blissful Beginnings, please follow these really simple guidelines:
1. Leave a comment right here on today's article. Comments sent by e-mail, sent in response to the daily e-mail newsletter, or left on other articles on the website are disregarded. If you have trouble finding the exact comment form, just follow this link and it will take you to the right place.
2. In your comment, answer the following:
What appeals to you most about Blissful Beginnings? The projects, the idea of embroidering blankets, the instructions for embroidery or constructing blankets, the beauty of the book? What, in other words, makes you say, "I really WANT this book!"?
3. Please make sure you leave a recognizable name either in the "name" line on the comment form or in the comment box itself.
4. Please leave your comment by Wednesday, November 28th, 5:00 am (CST here in Kansas). I'll draw the winners and announce them on Wednesday morning!
That's it! Pretty easy, eh? Much easier, for example, than battling shopping crowds today!
I hope you have a terrific weekend, with a chance to squeeze in some stitching. I'm working on (perhaps finishing!) my silk & goldwork project this weekend, and hopefully working on the Hungarian Redwork Runner in little snatches.
That's the extent of my excitement.
Oh. That…. and laundry.
Gosh. I know how to have fun!