Yesterday, we started developing an embroidery design based on a set of old Sajou monograms. Here's the next letter in the design, and the first stage of putting the elements together.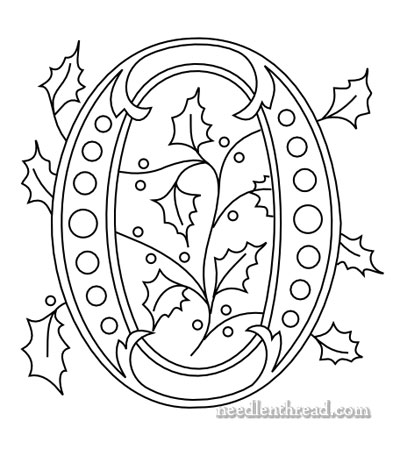 Here's the monogram O, which is the next element in developing this design.
One nice thing about monograms is that you can put them together to create simple words or full names. They're a great way to make up an embroidery design that effectively states something. An example of using monograms as separate elements to create a whole design would be this LOVE in a Box design made from monograms.
Here are the first two letters together.
Now, the letters are one thing – and in themselves, they'll be enough to create a design. But you can go farther – you can add a border, for example. Or you can separate the letters into individual boxes. You can off-set the letters and add decorative elements around them. Lots of options, when you start playing with designs!
Here, I'm just showing you the cleaned up vector line drawings of these letters. But when you're working with a pencil in a sketchbook or on vellum graph paper (which is my favorite medium when sketching up this type of design, because it gives me a good layout grid to work on), you can really go to town with doodling, correcting, re-drawing, testing theories, and so forth!
Tomorrow, I'll give you the last letter along with some layout ideas and a printable pattern that you can use as is or develop further.
I hope your day is peaceful and bright, wherever you are, whatever you're doing!