Embroidered monograms are an obsession of mine. I love monograms! I collect all kinds of monogram and letter sourcebooks, antique and new.
Combining my love of monograms with my never-quite-fulfilled dream of an entirely hand-made, embroidered Christmas (every gift, every decoration? it won't happen!), I have fiddled around with many a Christmas design that features lettering of some sort, and especially monograms.
Today, I'm going to show you the first step in one such fiddling endeavor. My hope: that this inspires you to fiddle around with designs as well. At the end of this short series, I'll give you the full embroidery design. Think of it as my Christmas present to you!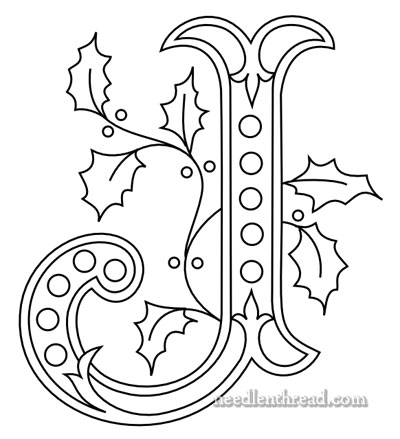 I bet you know where this is going, right? (Well, the title of today's post gives it away!) Here's the first letter. It's not finished yet. As the whole design develops, you'll see some changes along the way.
This is a slight alteration of one of my favorite old Sajou monogram alphabets, found in Sajou pamphlet #235. It's a pretty alphabet and it allows the embroiderer all kinds of interpretations with stitches, so that it is accessible to beginner and advanced embroiderer alike. I like it's combination of formal and flowing.
When drumming up ideas for embroidery designs, don't hesitate to look to the past. There are plenty of old publications that are in the public domain that can help you develop something beautiful to embroider!
You can find the old Sajou pamphlets through rare books dealers, if you want hard copies. Sometimes, they show up on eBay and the like, too. I'm always scouring for them! But, fortunately, if you can't lay your hands on hard copies, they're also available quite widely online. The best online source? Patternmaker Charts – he's got practically all the old Sajou, Alexandre, and many other wonderful old pamphlets available. The majority of them are cross stitch (some really gorgeous cross stitch monograms there!), but many are also for surface embroidery.
Tomorrow, we'll build on this one and develop the design further! See you then!