Have you heard of Stitchin' Fingers? If you haven't, I'll tell you a little about it.
If you have heard of it – if you're a member or you've visited the Stitchin' Fingers network – you already know that Stitchin' Fingers is a wonderful source of needlework inspiration and online camaraderie with other textile and needle-arts enthusiasts.
Stitchin' Fingers, Past
Stitchin' Fingers was a social network created several years ago by Sharon Boggan, one of the first full-fledged needlework bloggers online, when blogging first came to be. Sharon is well-known for her blog Pintangle, as well as for her extensive embroidery stitch dictionary. She's an amazing crazy quilter and stitcher. She runs several needlework and art-related classes online every year.
Stitchin' Fingers, Present
Sharon contacted me a while ago with a proposal. Because she wants to spend more time developing her other interests in needlework and art, she is cutting down on her online work. Stitchin' Fingers is part of that work.
Even though social networks seem to run themselves, the truth is, they take time to manage and shape, and those behind the scenes are responsible for keeping things running smoothly. So, Sharon asked if I would be interested in taking over Stitchin' Fingers.
I admit I had to think long and hard about this. Time is a precious commodity, especially when working in the World of Hand-Made. To take a fully grown social network and incorporate it into my work with Needle 'n Thread was something that required some thought!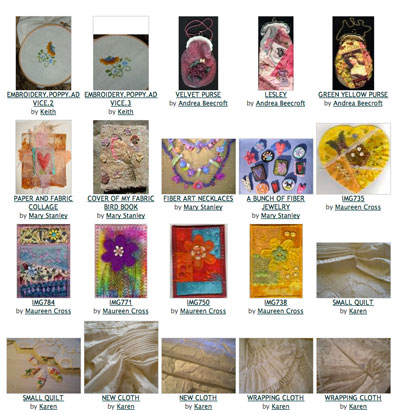 But I've always liked Stitchin' Fingers. I think it's an excellent example of a needlework-related social network that remains on focus and that avoids the tendency of many similar networks to become platforms for personal issues and grievances. On Stitchin' Fingers, textile talk is always the focus. Inspiration abounds in the myriad photos of needlework-related art that are hosted on the network. Discussions and shared experiences in needlework and textiles help like-minded artists and craftspeople learn and grow. It's a good network, and I don't want to see it fizzle or disappear.
Stitchin' Fingers, Future
Sharon was hoping that someone with an eye for forming the network, which has grown more or less organically (which is part of the charm and success of it) and with the ability and skills to develop it further would be interested in it, because she didn't want to see the network close, either. I am flattered and yet a bit humbled that she thinks me capable of the job! Yes, I've had experience with online work. Social networks, though? I'm still figuring out Facebook! Still, I love a challenge, and so I agreed to take over Stitchin' Fingers.
Sharon will be helping me get the feel for managing Stitchin' Fingers over the next month, and in mid-January, I'll officially be taking the network over.
If you're already a member of Stitchin' Fingers and enjoy the benefits of belonging to the network, you have no worries! I don't plan on overhauling and changing things up into to some unrecognizable entity that no longer feels like "home"! Still, I do have some ideas for the network that I plan to develop over time. My goal, as with anything related to Needle 'n Thread, is to provide you with quality online needlework information, to help you make connections with other needlework and textile enthusiasts around the world, and to promote the needle arts online to the best of my abilities.
If you are not a member of Stitchin' Fingers, I invite you to take a look at the network and join in the fun of connecting with stitchers from around the world. The network hosts many needlework-related groups, and you're bound to find at least one (if not dozens!) that fits your needlework niche.
Stitchin' Fingers Update 2017
Due to the doubled cost of running Stitchin' Fingers – imposed last autumn (2016) by Ning – Stitchin' Fingers closed at the beginning of 2017.
Thank You, Sharon!
Thank you, Sharon, for your vote of confidence, and for all the amazing work you have done over the years to promote needlework and the textile arts online!
And Needle 'n Thread
And of course, nothing will change here on Needle 'n Thread. We'll keep going forward with embroidery talk, projects, instruction, and information! There are several delectable things coming together for 2013 on Needle 'n Thread, and I hope you'll stick with me so we can enjoy the new year together!
Questions? Comments? Suggestions? (Insights to social networks that you think I should know?!) Feel free to have your say below!