Thread, thread, thread. I love talking about needlework thread! Here's one you don't hear much about, but it does exist, so I thought I'd tell you about it.
Yesterday, we looked at the difference between the general shape of a backstitch line compared to a split stitch line, and how that shape helps determine the suitability for using one or the other as an outline underneath the edge of satin stitch or long & short stitch.
To demonstrate the point, I used a thread called DMC Retors Mat 4 (Art 89). It's a strange name. And we don't hear about this thread too often here in the States, because, although it's a DMC thread, like many DMC threads, it's not distributed by DMC USA. So, if a shop carries it, it's imported from DMC in France.
DMC Retors Mat 4 is predominantly used as a tapestry thread – that is, it's used more for needlepoint or canvas work than for surface embroidery. It's a very thick thread, and it's a soft thread.
This is one of the older skeins of it, with an old label. I love old labels on threads!
And look! It even has the pull skein picture on the number tag!
If you look at the thread up close, you can see that, in a way, it looks more yarn-like than thread-like. It's thick and soft, with a good twist to it, though it isn't as tightly twisted as perle cotton. There's a hint of fuzz to it, though it isn't fuzzy like wool.
The thread is non-pliable. It's meant to be used as it comes off the skein, without any separation in the plies.
Here, I separated the plies to show you that it's a five-ply thread, and when you separate the plies, they lose their twist and become even softer and almost wispy. The whole thread loses quite a bit of stability when separated. It isn't meant to be stitched with, taken apart.
The thread, during the manufacturing process, is gassed and combed, so that it doesn't pill when you stitch with it. It's quite smooth stuff!
It's a mat thread (like the name suggests), which means it hasn't been mercerized so it doesn't have a shine to it.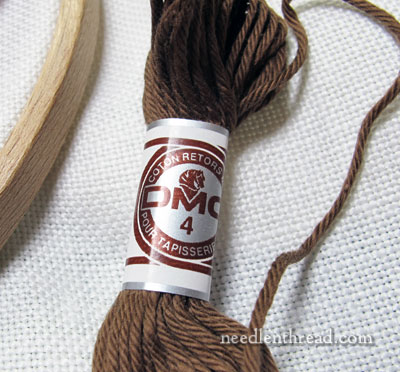 This is the current label on Retors Mat 4…
… and look! It still has pull skein instructions on it! (These used to be on every DMC pull skein label, but not anymore. You can read about pull skeins here.)
Uses in Embroidery
While the most common usage of DMC Retors Mat 4 is in needlepoint (it's also apparently recommended for use in making Brazilian bracelets), the thread does have its uses for embroidery.
It's definitely too thick for your typical crewel-design-on-linen type of embroidery, but it's a really nice thread for embroidering on wool and flannel blanketing. If you like to embroider blankets, you might check it out. I'm thinking about using it on a length of purple wool blanketing that's been sitting in my cupboard for eons. I want to stitch up a "doodle blanket" with it, and I'm thinking this thread could figure heavily in that project.
Additionally, Retors Mat 4 can be used in different styles of folk embroidery that feature chunkier, soft thread. I find it a little too heavy for traditional Hungarian redwork, but it could actually work for that. In fact, it was recommended to me to use this thread with one ply removed, to mimic more closely the traditional thread used in Hungarian red embroidery. I find the thread too unstable when a ply is removed, but with care, it would work.
Another use? It's a wonderful thread for kids using plastic canvas. If your little one has graduated beyond yarn on canvas or cardboard, and is producing little ornaments and the like, this is a good thread that's manageable for a child, and that has a much more attractive finish than yarn.
Resources and Availability
DMC Retors Mat 4 comes in over 280 colors. It's hard to come by in needlework shops, but online, you can find it through Lacis. A Google search will also turn up some needlepoint shops online that sell it, and that show the color charts.
You can also search for it on eBay. In fact, that's how I got my stash of the stuff. A friend sent me a link to a listing that had all the colors, many with repeats, mostly full skeins, on eBay for under $50. It was one of Those Things I Couldn't Pass Up.
In looking on eBay, I noticed that some sellers say that the thread has been discontinued. Whether or not this is true, I haven't been able to determine. Perhaps it was once distributed here in the US by DMC, but is no longer, and that's what they mean? At online needlepoint shops in France, it seems to be available with no hint of non-availability, and the same is true of the few online shops where I've found it here in the US. I've tried to contact the company, but no one has returned my queries.
NB: DMC was badly hit with Hurricane Sandy, and were out of contact for almost three weeks. I've heard from them now – the Retors Mat 4 is still made and sold widely in France, but not distributed by DMC in the US, though some shops do source it from France.
So, if you're interested in embroidering wool or flannel blankets, if you are pursuing any of the "chunkier" styles of folk embroidery, or if you teach children to embroider and like to use plastic canvas, you might check out DMC Retors Mat 4. It's a nice thread. I like it!
What about you? Have you used Retors Mat 4 for any needlework projects? Any views on the thread or ideas of how it can be used in different types of embroidery? Feel free to leave a comment below!