Lately in the Stitch Fun series, I've been playing with lattice stitch variations and whipped and laced stitch variations. When playing with filling or line stitches (as opposed to individual elements, like the raised spider daisy), I like to have some kind of pattern or drawing to "play" in.
Think of the pattern as a sandbox. It's nice to have something to contain all the sand – to keep it from spilling about and getting too messy – but you still have plenty of scope inside the sandbox for creative play. That's pretty much how I approach patterns like the Jacobean Jumble.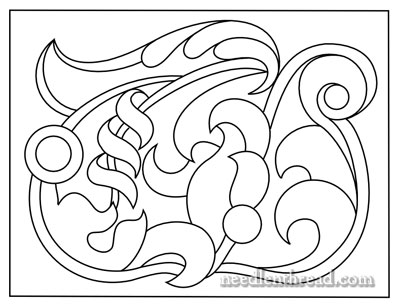 Jacobean Jumble, Past and Present
I drew up this pattern as far back as 2010. It's a combination of a few different Jacobean motifs, all kind of morphed together. It was just a sketch of an idea, to have a sandbox to play in.
The Jumble appeared in the past on Needle 'n Thread, too, when I was taking a different approach to its use. I began to use it to explore different types of stitches worked with different types of silk. This article on chain stitch worked with Soie d'Alger (spun stranded silk) was also part of my previous Jumble attempt.
That project never quite got off the ground, but I've been toying with it's progeny ever since. I like the idea of combining all different types of silk threads into one sampler that is rather random and that employs many stitches, including fillings and line stitches and more obscure variations of well known stitches. Some day! But probably not with this pattern, which is just a bit too jumbled and unbalanced.
In the meantime, though, I've been using the pattern as a sampler for a bunch of lattice stitch fillings and other Stitch Fun explorations. It's been working ok for that, and since so many of you wrote to ask for a copy, I'm happy to pass it on to you!
Marking Lattice Fillings for Odd Shapes
If you're going to work the odd shapes in lattice stitches, you can take several approaches to marking out the lattice lines so that they are evenly placed on the fabric. You can mark the beginning and ends of the lines with pencil, so you can see where to start and end a lattice line, or you can even mark the full line using a pencil and a ruler, as I did in the section in the photo above.
If you decide to mark out the whole line with a ruler, make sure that the thread you are using will cover your pencil marks. The thread I'm using (coton a broder size 25) is about the thickness of two strands of regular DMC floss. It's more like 2.5 strands – not quite as thick as three strands, not quite as fine as two. In any case, it works well for covering up these pencil lines.
Another point: start marking your lines in the center of the shape and then work out to each side, rather than starting by an edge and working across the whole shape. Starting in the center will assure that your lattice layout is a little more balanced.
Jacobean Jumble Pattern PDF
Here's the PDF for the Jacobean Jumble pattern, in case you want to play with it, too:
Jacobean Jumble Pattern (PDF)
Feel free to enlarge or reduce the size to suit your needs. If you print without scaling, it'll print at the size I'm using.
Enjoy!
Looking for inspiration & information on hand embroidery?
There are all kinds of reasons to sign up for the Needle 'n Thread daily newsletter! Check them out and sign up today!