Here's a bit of needlework news that may thrill you silly. It thrills me silly, anyway!
Needlework Supplies on Sale!
The first bit is about a sale.
Oh my. Sale + Needlework Supplies = Giddy-Gladness!
If you've been holding out to purchase some good embroidery supplies, February is a great month to do it over at Hedgehog Handworks! Hedgehog is having their annual 15% off sale, which often comes in January, but this year is for the whole month of February.
Hedgehog Handworks is one of the few needlework shops that carries just about everything I look for when shopping for embroidery supplies, so that's why it thrills me silly when they have their yearly sale. It isn't too often that fine needlework supplies go on sale, so I like to take advantage of it, when they do!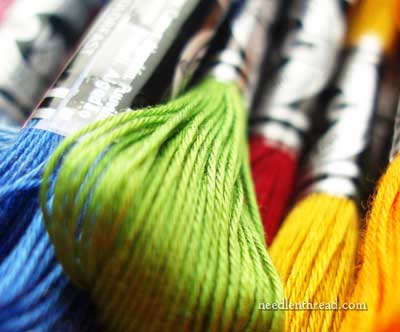 Among the many delectable embroidery-related goodies at Hedgehog, you'll find the whole range of coton a broder 25, which I've been playing a lot with lately. I've been using it in the Stitch Fun and lattice work sampler I've been doodling on, and I'm also using it on a current monogram piece (more on that later).
Hedgehog also carries a wide range of real metal (goldwork) threads for hand embroidery. If you've been dying to dabble in goldwork but haven't made the plunge, this is a good time to pick up some threads to try.
Hedgehog carries the full range of gilt sylke twist (pictured above), which now comes in over 30 colors! This is a gloriously beautiful thread that works especially well in 17th century embroidery techniques, but works equally well in other surface embroidery endeavors, too – anywhere you want to add a real gold and silk sparkle to your fine needlework. If you'd like to see the thread in action, I used it on this strawberry motif, which includes laid threads and lattice work.
What else will you find at Hedgehog? Well, the list is long, but here are some favorites: Hardwicke Manor embroidery hoops; a crazy-thorough collection of needlework books; beautiful linen for surface embroidery; silk ribbon; silk embroidery threads; fine cotton embroidery threads including floche, coton a broder, Danish flower thread, Mountmellick thread, and other whitework threads; and…. and…. well. Everything else.
Berlin Embroidery – Watch This Develop!
Tanja Berlin has been developing a new project, and this is something else that thrills me silly! She's working on a Carrickmacross lace piece, which she'll be turning into a kit later this year.
To follow the development of the development of the piece, bookmark her work-in-progress page or subscribe to her newsletter, which comes out once a month.
Carrickmacross Lace has enjoyed a recent burst of popularity because of its use on the famed wedding dress of Kate Middleton. It's a beautiful lace technique involving appliqué and embroidery on a machine net (tulle) ground. I can't wait to see Tanja's piece develop, and will be watching eagerly for the kit!
In case you have never worked one of Tanja's embroidery kits, her written instructions in her kits are absolutely The Best! And she covers a wide range of embroidery techniques in her various kits available on her website. So if 2013 is your year to try a new technique, pop over to her website (based in Canada), and see what she has to offer.
Incidentally, this little fellow is her current kit of the month, available at a 10% discount. You'll find plenty of other needlepainting kits available at Berlin Embroidery, ranging from beginner level to advanced.
You'll also find goldwork kits, whitework kits, shadow work kits, Jacobean kits, blackwork kits…. Additionally, you'll also find a thorough collection of goldwork supplies, of whitework supplies – the list goes on and on!
When people write to ask me where they can find good instructions in a good kit to learn a technique, I always send them to Tanja first. And I can't wait to see what she does with the Carrickmacross lace kit!
So those are two things thrilling me silly this morning. I'm sure, since it's Saturday, I'll bump into many more equally thrilling things throughout the day – things like laundry. Housework. Monster Dust Bunnies. Oh my.
I hope your Saturday is full of thrills!
Enjoy your weekend!