This is a technique that's been on my mind for a while – a Long While! I rarely see it on goldwork pieces being designed and embroidered today, but it shows up often on ecclesiastical embroidery pieces from the past.
It's a type of raised goldwork. It looks like satin stitch (it's actually surface satin stitch, or laid work, couched at the sides) worked over card or board or other foundations. We talked about this technique a little bit last year, when exploring this piece of old goldwork.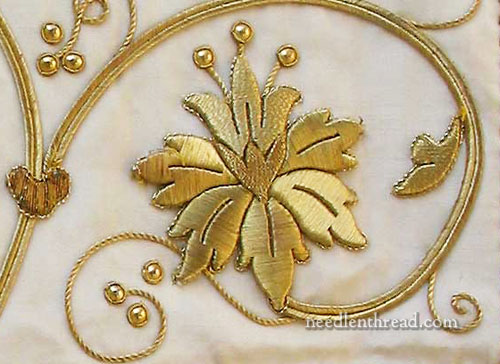 This is my favorite example of raised goldwork. You can click on that photo above for a slightly larger image, if you wish.
Roses, lilies, passion flowers, pomegranates, acanthus leaves – these are often the subject of this type of raised goldwork. But the lily above is especially exquisite, I think, and the technique is really shown off against the white silk background. Thankfully the photo came out ok – you can really get the sense of how the light plays off the direction of the gold threads, so that each petal reflects the light differently. It's a lovely piece of work!
Here's another favorite example of the same technique. This comes from this goldwork chasuble that I wrote about ages ago. You can see the rose, the surrounding leaves, the acanthus swirl, and the bud towards the upper right of the photo all worked in this technique.
This is another example of raised goldwork over a foundation, also on an old vestment. This example doesn't fall into my "favorites" category – I like it, but it lacks the delicacy of the examples in the photos above. There's such a harsh contrast between the embroidery and the fabric. It looks very angular and hard. But the relief and dimension in this type of embroidery is fantastic, isn't it?
This technique is on my list for this year. I have the design lined up, but I'm on the hunt for just the right goldwork thread. I'll keep you posted on what develops!