Shadow Work is a type of embroidery worked on semi-sheer or sheer fabric, with the bulk of the embroidery on the back of the design so that the color of the thread – or rather, a shadow of the color – shows through on the front of the fabric between two solid-colored outlines.
The stitch used in shadow work embroidery is essentially backstitch, but it is worked between two lines, alternating back and forth between the two lines with each stitch.
On the back of the fabric, the resulting closely worked herringbone stitch forms a layer of criss-crossing threads that shows through on the front of the fabric with just a hint of color between the backstitch outlines.
Last week, I had the opportunity to show someone how to do shadow work. This is the sample I worked up for the occasion.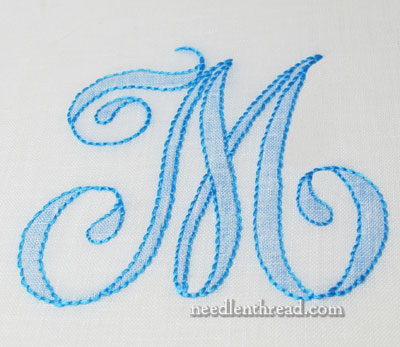 Shadow work can be used on many types of designs. Tanja Berlin, for example, offers some fantastic shadow work kits that includes subjects like tropical fish, a frog, flowers, a butterfly, and a forest, all worked on organza fabric with regular cotton floss.
Shadow work is a relatively quick way to work up a decorative initial, so I chose a letter for my sample. Letters that are made up of gently curved lines work really well for shadow work.
I'm not so fond of the front of shadow work, as much as I am fond of the back of it. And that's just weird – how often do you prefer the back of your embroidery to the front?
But the back really is my favorite part of shadow work. I think the herringbone stitch is exceptionally pretty when the stitches are worked so close together.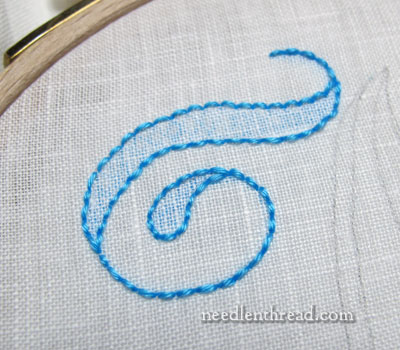 You can see that, on the front, the lines look like typical backstitch. I'm contemplating whipping the backstitch line to create a smoother, ropey line. I confess I'm not a huge fan of the look of backstitch by itself for outlines.
Ah – and the back again! The herringbone stitch takes curves gracefully.
Fabric for Shadow Work
With shadow work, the choice of ground fabric is important. The sheerer the fabric, the more distinctly the shadow shows through. If you want a more vivid color showing through your fabric, choose a sheer fabric like organza.
When it comes to shadow work, I'm a fan of the more subtle-color approach, so I like a slightly denser fabric. If you want more subtle color – like the paler color in the sample here – there are several fabric options. Shadow work can be done on fine cottons like batiste, and it can also be worked very effectively on the right kinds of linen.
In the sample, I'm working on Legacy's linen cambric.
Oh. My. Goodness. It is a wonderful fine linen. It would be perfect for handkerchiefs, for fine whitework, and even for clothes. Baby gowns… delicate blouses… it is such nice stuff. It feels so good!
Legacy also makes "shadow work" linen – a handkerchief weight linen that works beautifully for shadow work, too. Because it is not as closely woven as the linen cambric, the color shows through slightly better on the shadow work linen. Later on, we'll look at a sample of shadow work on the shadow work linen and compare the two fabrics.
The thread I'm using is cotton floche, because floche just works great for this type of embroidery. But you can use any kind of embroidery thread, really, for shadow work – regular cotton floss, floche, coton a broder, flower thread, silk, or even wool.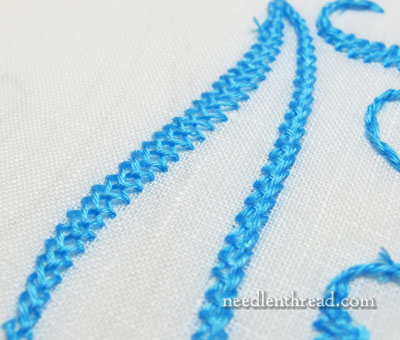 One thing to remember with shadow work – more so, practically, than any other type of embroidery – is that tweakers are totally undesirable. The back of the embroidery has to be neat, and all tweakers must be trimmed carefully. There are a few tweakers here that need trimming!
In addition to the tweakers, starts and stops have to be carefully considered. Running threads too haphazardly underneath the backs of the stitches can result in darker shadows and blotches on the front of the work, so a little ingenuity has to be practiced to ensure more discreet starts and stops to the threads.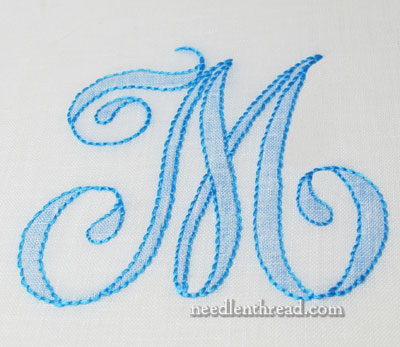 Shadow work is a relatively easy technique, and it works up very quickly. A 2.5″ monogram like this one worked in satin stitch would take a good several hours from start to finish, while the same monogram in shadow work took less than an hour.
Alphabet Pattern
Ready to try your own shadow work monogram? You can find this alphabet – and 16 other monogram alphabets for hand embroidery! – in my ebook Favorite Monograms. Several of them will translate well into shadow work!
We'll revisit the topic of shadow work embroidery later on as I work through some other samples. If you have any questions or comments about it, feel free to leave a comment below!