I love finding old embroidery books online, especially when they offer good instruction or patterns.
While it's often difficult to find hard copies of these wonderful old resources, many different websites provide scanned copies of out-of-copyright books, pamphlets, and whatnot relating to embroidery. My favorite online book resources are Antique Pattern Library and Internet Archive.
This morning, I'd like to point you a little treasure over at Internet Archive.
This gem is a book published in 1917 titled An Embroidery Pattern Book and written by Mary E. Waring.
Throughout the book, there are lots of neat little patterns that would work well for individual embroidered elements or repeated motifs. They would make fun practice elements, too.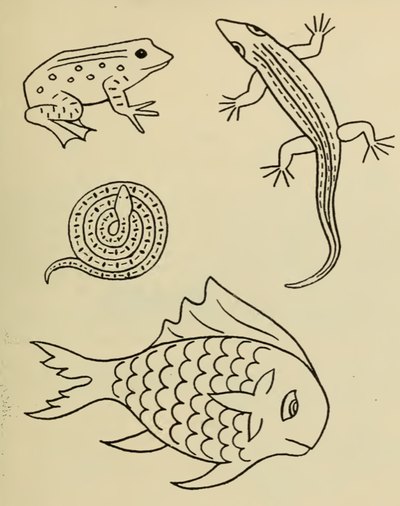 Some of them are really fun! I'm kind of taken with the frog and the lizard, as a matter of fact – and I like the worried fish, though I could probably leave the snake, personally….!
These could be really fun, by the way, to make into Little Things! There's a section of the Little Things e-book about designing your own Little Things, and small, individual patterns like this would fit right into that.
I like this geometric design, too! I can see it in a combination of blackwork and goldwork…
This little sweet scene is found near the back of the book as a suggestion for a baby's bib. Can't help it – makes me think of the Little Things again – perfect for that! It's churned up some ideas, anyway!
The Embroidery Pattern Book by Mary Waring is available free on Internet Archive in various formats, including PDF, EPUB, Kindle, a text file, or as an html file that you can read online. Hope you enjoy it!