Last week when I reviewed the LightPad for transferring embroidery designs, I mentioned that I've transferred 52 monograms in the past month-ish. This generated a lot of questions, but the most common one was about the transfer process itself.
What do you use to trace monograms (or any patterns) onto linen, if the monogram is going to be laundered. Should the transfer be permanent? What if you can't cover it up?…. Lots of questions about tracing designs.
I'm pretty sure I've mentioned this tip before on Needle 'n Thread, but if not, I should have! It deserves its own article, its very own space in cyberspace.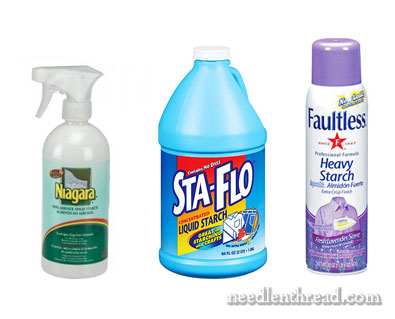 The secret ingredient to tracing a non-permanent design onto linen or cotton that will be laundered or at least rinsed after stitching is Spray Starch.
My preferences are from left to right. I prefer the pump bottle of Niagara starch over aerosol any day, but since it's only available at one store in a 50 mile radius, I tend to run out of it often. So my next preference is to dilute liquid starch in the empty pump bottle. If I run out of both options, the only spray starch available locally is Faultless in the purple can, which works fine for this, too.
Douse the linen with spray starch, especially on the side you're drawing on. I always starch both sides before transferring a design, just in case I flip the fabric. Let the fabric sit a minute, and then iron it on the proper setting for the type of fabric it is.
Now you're ready to trace. Use a regular HB or #2 pencil and trace the design onto the fabric.
When you're finished stitching, rinse the piece well and damp stretch it. The spray starch will allow the pencil lines to release easily with a good rinsing. Of course, this doesn't mean you can use a heavy hand and draw deadly dark lines on your fabric, but it works great with regular lines that are clearly visible.
So that's how I transferred 52 monograms in the last month.
And here they all are, organized and bagged up into their own little kits, ready to stitch!
You can find more information – and many more techniques – on transferring embroidery designs here. Have a look – you're bound to find a transfer process that will work for you!