It's been a while since I've written about my Mission Rose goldwork project, for two reasons, which I'll share below.
But since I've received a lot of inquiries about it in the last several weeks, I thought I'd give you a quick update.
The project was put away for a bit while I was working on other things. For goldwork projects that are incomplete, I always cover them up with a cloth and put them somewhere out of the light.
And of course, once a project is put away, it's less likely I'll get anything done on it until I have real time to devote to it again. So that's one reason the work stalled on the project.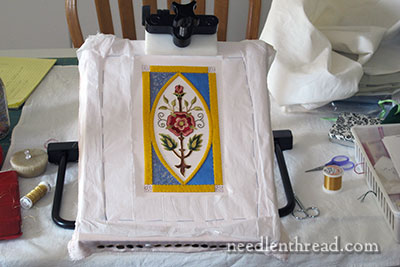 But here it is, out again, and you can see that all I've managed on it since the last update was one more corner in vermicelli work – the lower left corner. My plan is to get the other two corners finished this weekend, so I can move onto the frame.
The photo above hopefully will give you an idea of the size of the Mission Rose. It's not a very big project – people who see it in person are always surprised by that. One lady told me she pictured it the size of a small poster (about 18×24″). If you check out the printable pattern for the Mission Rose, and print it without scaling on your home printer, it'll print at the size I'm working it.
I won't add any more updates until I finish the vermicelli and am ready to start the frame. That way, we can look up close at the goldwork thread choices for the two frame areas.
You can see that the vermicelli mutes the blue a little bit, but not too much. It allows the blue to shine through, but it isn't quite as bright as it is without the vermicelli.
Does the Mission Rose Bore You?
The other reason that I stopped pushing on the Mission Rose is this: I received two surprisingly blunt emails telling me to quit writing about the project because "everyone is bored with it" (according to one) and "we're all sick of it" (according to another).
Though I don't think the way they went about saying it was nice, I think it's fair to say that the repetition of articles on the same techniques can get boring, especially when progress is slow. I didn't really want to update again until I moved on to the frames, where some more instructional content and discussion of materials can take place.
The time off from the project was good for me. It reaffirmed that I like the Mission Rose, and that I am going to continue writing about it, because, after all, it's my embroidery… and (not to put too fine a point on it)… it's also my website.
The other, greater factor that pushed me to move along on it: the 40+ emails I've had in the last month, asking questions about it. It seems more folks are interested in it than not.
If you are indeed bored by the Mission Rose project, though, I invite you wholeheartedly to skip it when it comes up. It won't bother me in the least. When you see "Mission Rose" in the title, just think "skip" – it's that easy!
Next time we visit the project, we'll be framing things up. For those waiting for materials lists on the goldwork threads, this is where I'll be making final decisions on threads and showing you which ones I'll be using.
Silk Gimp Give-Away!
Today's the last day you can participate in the Silk Gimp give-away. Here's the give-away article with guidelines, if you'd like to participate. Tomorrow, I'll be announcing the two winners.
For Monday, I've worked up a leaf tutorial for a wonderful but seldom-seen technique for creating shaded leaves. It's a fun technique, though a bit tricky. We'll work through it step-by-step so you can see how it's done and discover that it isn't difficult at all.
Hope you can squeeze some stitching in this weekend!