Lately, Ye Olde Inbox has been jammed full with questions about embroidery frames, stands, hoops, and the like.
When questions start arriving in bulk (a good sign that somewhere, there's a spurt of growth going on in the embroidery world!), I try to address the topic here on the website for a couple reasons:
1. It makes it easier to refer folks to one article; and
2. If 20 people are asking, there's a good chance that many more are wondering, but not asking.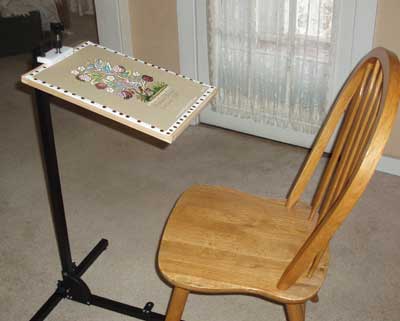 So let's chat a bit about embroidery stands today. While we work through some considerations, I'll link up to some older articles on the subject, and I'll provide you with some information and resources.
Input here would be great – the more information and opinions that we can gather can help other stitchers make informed decisions about their purchases. So do feel free to leave input in the comments section below!
Investing in the Right Stand for You
Ultimately, if you're considering purchasing a floor stand or lap stand, it boils down to is this: You're making an investment – and I use the term investment on purpose: these tools cost a lot of money (floor stands usually being more expensive than lap or table top stands), but they pay dividends by making your stitching life more pleasant and more efficient, and hopefully, by lasting a long time.
Just like any major investment you would make, do research and get opinions, and, if you can, try the tools yourself before purchasing.
Even if you have to drive two or three hours to a shop to try a stand you're interested in, do it if you can! Better to lose a whole Saturday and a tank of gas, then to invest a good chunk of change into an embroidery stand that you don't like. Trust me on this. I've made the mistake for you!
Embroidery Stands I've Owned & Used
To put things in perspective so that you know that I have tried other stands besides the three stands covered in detail below, I'll admit with embarrassment that I've been somewhat stand-crazy over the years.
Always being on the lookout for the perfect piece of equipment, I've bought several embroidery stands myself that turned out to be less than I had hoped for. I've also been fortunate to be on the receiving end of people getting rid of embroidery equipment ("It was my mom's, I don't know what to do with it"), leftovers from shops, my friends coming across good buys at garage sales or thrift shops, and so forth. So many stands have come my way, one way or another.
Among the stands I own now or have owned in the past are: the Lowery Workstand, K's Creations stainless steel floor stand (similar to the Lowery), K's Creations scroll frames, a couple table stands from American Dream Products, Lacis wooden floor stand, Lacis wooden table top tambour stand, and several unidentified stands meant to hold scroll frames or stretcher bars, including z-arm stands and a stand with a wooden clamp on the side arm.
There are, believe it or not, a couple stands that I'm still curious to try, but investing in them would be silly, when I have exactly what I need in the three stands that I use all the time.
Needlework System 4 Stand
The first stand that I use all the time is the Needlework System 4 floor stand with the frame clamp, which I reviewed quite a while ago.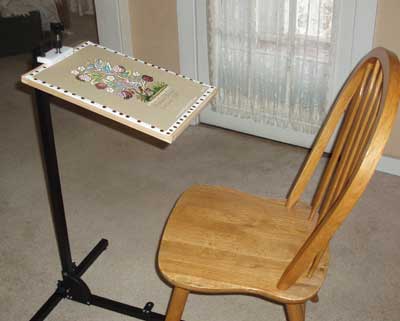 Sorry for the repeat photo! It's the only photo I have of the whole stand in use…
This stand is streamlined, easy to use, sturdy, and perfect for most of my stitching needs. I use it primarily with stretcher bars (Evertite frames, to be precise), as well as with smaller slate frames.
The second stand that I use all the time is the Needlework System 4 table / lap stand, also with the frame clamp. My version is the older one, with the tube bar as the base. Now it's made with a tray as the base.
You can find the Needlework System 4 stands on display at many local needlework shops in the US, but they aren't usually stocked at shops. You can often test them at the shop and then order them from the shop. Online, my favorite source for them is Threadneedle Street in Issaquah, Washington. The proprietress of the shop is super friendly and helpful, and they usually stock the Needlework System 4 components, so orders arrive pretty quickly. They're also the most competitively priced options online.
You can also find the NWS4 stands through Stitchers' Paradise in Florida, another shop with good, quick service. Incidentally, they also carry Evertite stretcher bar frames.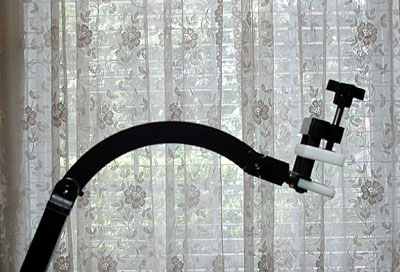 A note: if you stitch in an arm chair or on a sofa and you're looking at the Needlework System 4 stand, it's worth getting the extension arm (shown above).
The Necessaire from Needle Needs in the UK
A few years ago, I reviewed the Millenium Frame – an embroidery (or needlepoint, cross stitch, and so forth) frame produced by Needle Needs in the UK.
It's a terrific frame – I find it works great for tensioning up fabric for embroidery projects. It's easy to use and to set up.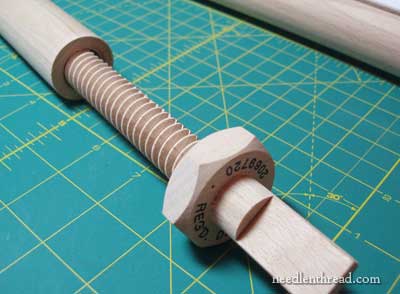 Needle Needs works hard to keep the Millenium frames coming – they're not always in stock, but if you keep an eye on their website, you can catch them when they have them and place your order. Especially for overseas customers, delivery might take a while.
They're a purchase you have to plan for well in advance, rather than a quick, last-minute purchase.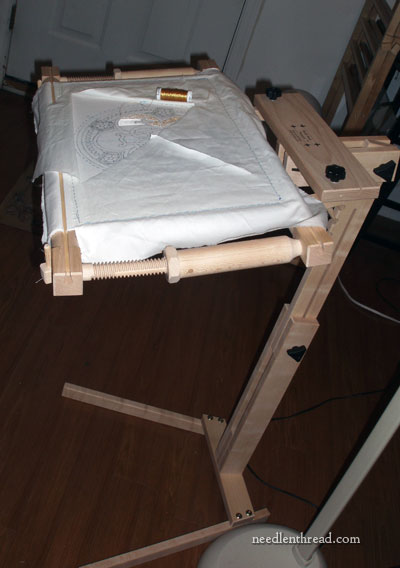 Shortly after reviewing the Millenium frame, I reviewed the Necessaire floor stand, too. I've found the Necessaire floor stand very useful for all kinds of larger frames especially. I love it! It's comfortable to use, it's easy to use, and it's very well made.
My opinion on both Needle Needs products (the frame and the stand) has not changed over the past few years I've been using them. I still recommend them, even though – again – they aren't "I want it now" items. You must plan in advance if you want either of them, and plan to wait once you order them. Needle Needs is a small family run business, and they do all the manufacturing and distribution themselves.
Of the three stands that I use regularly, the Necessaire is the "youngest" – being only a few years old – but it looks and acts just like it did when I first got it, which is really wonderful for a wooden stand.
Nicola Parkman, who writes a lovely blog devoted primarily to counted work and called Stitching by a Cornish Sea, uses the Needle Needs frame and stand as well. She produced videos answering her readers' questions about the stand and the frame and made them available via YouTube.
Nicola's videos are informative, and on top of that, they're charming! She demonstrates quite clearly how both are set up and used, and they answer many questions for folks who have not seen the Millenium frame or Necessaire stand in action.
So, for your viewing pleasure and your information, here's Nicola Parkman demonstrating the Necessaire floor stand:
And here she is, demonstrating the Millenium frame:
Email subscribers, visit today's article on Needle 'n Thread, if you can't view the videos. You can also find them on Nicola's page on YouTube.
What About You?
I use one or the other (and sometimes all three) of these three stands practically every day. They have served me well, and they've held up over the years amazingly well.
Compared to the other stands I've owned, these are the ones I highly recommend, without reservations.
But keep in mind that personal preference, circumstances of use (stitching space), and intended use definitely come into the picture when choosing stands. If you can, try a stand first, before purchasing.
Now, to turn it over to you! Do you own a floor stand or a table top / lap stand? If so, what kind do you own, and what do you like about it? Does it have any specific flaws? Would you highly recommend it and why? Or are you on the lookout for something better and why?
If you can share information here on Needle 'n Thread about your floor stand experiences, you'll help others make good decisions about investing in a floor stand. And good decisions lead to happy stitchers. And happy stitchers make the world a better place. So, leave some feedback, and make the world a better place!
Also, if you have any questions about floor stands, don't hesitate to ask below!
Tags