If you've been hanging out with me for a while on Needle 'n Thread, you might recall that last August, I ran a give-away for some really fun over-dyed embroidery threads from LES Designs.
Recently, Lorraine overhauled her embroidery thread business, renamed it to Colour Complements, and established a bright and beautiful new website, which has a blog attached, where you can keep up with her thready news.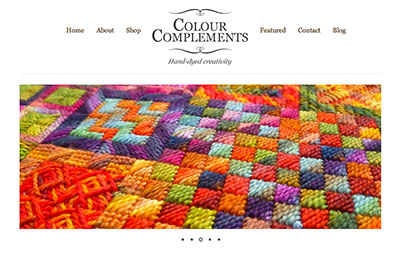 And what better way to celebrate a new beginning, than to spread some color around?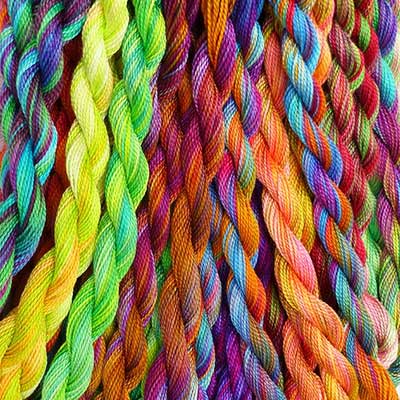 And the best way to spread some color around? Well, to have a give-away, of course!
I told Lorraine I'd be happy to host a give-away, because, after all, I know my readers are about as thread-crazy and color-loving as any group of people, anywhere!
And besides, it's a great time of year to splash some color into our lives. Whether you're still stuck in winter, crawling out slowly towards spring, or transitioning from a toasty summer into autumn, bursts of color are always appreciated!
So, today, we're giving away five skeins (the winner's pick!) from the Colour Complements shop. There are lots of colors, groups, types of thread there.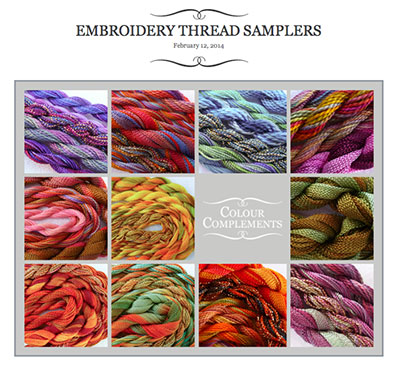 Awww, just imagine the poor winner having to make a selection!
(By the way, there are some nice colors of perle cotton #12 in there, that would work pretty well with the Secret Garden project, if you're following that project and are inclined to use over-dyed threads!)
Give-Away Guidelines
To take part in the give-away, please follow these guidelines:
1. To enter the give-away, you must leave a comment on this article, on the Needle 'n Thread website. If you're not sure how to get to the comment section on this article, just follow this link and it will take you directly there. Comments left on other articles on Needle 'n Thread or sent via email are not eligible for the drawing.
2. In your comment, answer the following:
Which thread in the Colour Complements shop is your absolute favorite? And if you win, what do you plan to do with the thread?
3. Make sure that you leave a recognizable name either in the "name" line on the comment form or in the comment box. For example, if your name is Alice, please make sure that you qualify which Alice you are. Something like "Alice in Albuquerque" or Alice W. would work. This helps eliminate confusion when the winner is announced. Thanks!
4. Submit your comment before Friday, February 21st, at 5:00 am Central Time (Kansas, USA). I'll announce the winner on Friday morning.
The give-away is open to anyone, anywhere! Just keep in mind that, if you're in another country besides Canada (where Colour Complements is located), you're responsible for any customs fees, duties, taxes, and whatever and so forth that your package might encounter. Needle 'n Thread and subsidiaries (I don't have any subsidiaries – I just like to say that…) are not responsible for lost, stolen, or misdirected mail. Neither Needle 'n Thread nor subsidiaries were paid or bribed or cajoled into doing this give-away.
I like Lorraine's threads, and I'm happy to tell you about them!
Have a wonderful, colorful weekend!