After showing you these chatelaine scissors from Simply Scissors last week, I figured this morning would be the Perfect Monday Morning for a give-away.
If, like me, you're trying to recoup from the Dreadful Time Change this weekend, you need a pick-me-up, anyway!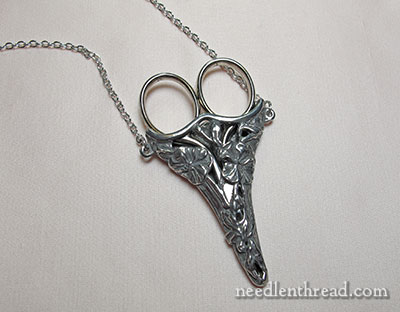 So, today, courtesy of the folks at Simply Scissors and Golden Hinde, I'm giving away these lovely Jasmine chatelaine scissors.
The chatelaine is encrusted with lovely jasmine flowers – a perfect little spring gift!
If you'd like to participate in the give-away, please read the guidelines below. But before we get to them, I'll answer some questions that came in after I mentioned them lat week.
Additional Chatelaine Scissor Information
The scissors themselves (they are quite small – about 3″ long) are made in Italy. They work very well. They have tiny, fine, sharp blades. The mechanics of the scissors feel good. Some readers commented that often, tools like this look good online, only to find that they are tinny and low quality when they arrive. This isn't the case here. I don't like tinny and cheap, either!
Some of the sources I listed in the previous article are for wholesale purchases, so here are some better direct sources:
In Australia, you can find chatelaine scissors through Country Bumpkin.
In the US, you can find them through Fireside Stitchery and through Carol Ahles Fine Sewing & Heirloom Tools. The latter has the best selection of the chatelaine scissors, with some beautiful ones to choose from. (The tulip ones on the second page are lovely!)
And in the UK, you can find the chatelaine scissors at Golden Hinde, along with (yes!) many other little distractions like goldwork supplies, books, kits…
Give-Away Guidelines
If you'd like a chance to own the Jasmine chatelaine scissors, just follow these guidelines:
This give-away is now ended! Thanks for participating!
1. Leave a comment below, answering the question posed below. Comments left on other articles on Needle 'n Thread or sent in via email are not eligible.
2. In your comment, answer the following question:
What's your favorite embroidery tool?
3. Please make sure you leave a recognizable name either in the name line or in the comment box with your comment.
4. Submit your comment before 5:00 am CDT this Saturday, March 15 (the Ides of March!). I'll announce the winner on Saturday morning.
The give-away is open to anyone, anywhere!
Good luck!
And may your Monday be a jolly one!