Ahhhh… one of you out there who participated in last week's Chatelaine Scissors give-away will soon be in possession of this gorgeous little accessory from Golden Hinde and Simply Scissors!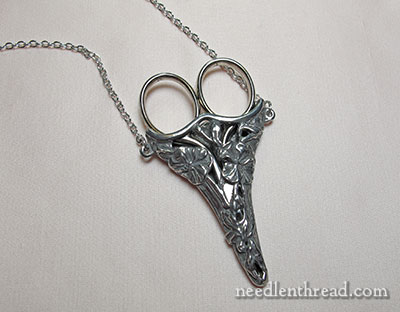 But for this particular give-away, we're all winners, in a way!
Sarah at Golden Hinde contacted me earlier this week, with an email expressing sincere gratitude to all who participated and took interest in her chatelaines. Here's her note:
Thank you to all those who entered the competition and your kind comments. I cannot believe the interest in the chatelaines, they are the heirlooms of tomorrow though and alot of thought and hard work has gone into each design.

Therefore I would like to offer any ladies (or gentleman) £5 off any chatelaine order on our site. All you have to do is send a separate email mentioning Mary Corbet's Needle 'n Thread and we will refund the £5.
So, if you're considering purchasing a pair and want to do so through Golden Hinde, you'll receive a £5 discount on your order by dropping them a line and mentioning Needle 'n Thread.
Thanks, Sarah!
You can find suppliers of these scissor chatelaines in your own country, too – you'll find sources listed in the original give-away article. The only discounted source for readers, though, is Golden Hinde in the UK.
Update: Silent Stitches will also give a $5 discount on scissor chatelaine orders from their website, too, with a mention of Needle 'n Thread.
Who Won the Scissors?
Well, the random number generated spit out number 11 this morning, and comment #11 belongs to Kathy S (kaks), who wrote the following reply to my question, "What's your favorite tool?":
The things I use every time I stitch include the floor stand, the magnifier and light and a really good,new cushion on which to sit! I recently switched the place of stitching from my recliner, in our family room, to the living room, using a kitchen chair in front of the picture window, to hopefully help my tired eyes out by using natural light during the day (which time to stitch during the day is hard to come by!). However, I digress; I didn't tell you my favorite tool. My favorite tool is the fishing tackle box that came my way from my Grandmother. It holds all of her DMC floss, wound onto bobbins, by her hand. She also stashed away her floss winder, metal threads, rings on which to hold the bobbins, and thread organizer . Before I started needlework, I had no idea of the treasure in that box. Now, I am amazed at the organization that is at my finger tips. I lugged the tacklebox and and floor stand with me as I moved to and fro, for a while before using them. I sure am glad I did!
Congratulations, Kathy! Drop me a line with your mailing address, and I'll get those to you soon!
I loved all the answers to the favorite tool question! I really enjoyed reading them as they came in – it was fun!
(And now you know why I ask the questions – they keep me entertained…)
Thanks to all for participating! Have a swell weekend, and I'll see you Monday!