A couple weeks ago, when I reviewed the book BiblioCraft by Jessica Pigza, I might have mentioned that I have a Thing about Libraries and the Wonderful Wonders that they offer.
In the online world, you can find excellent resource books for hand embroidery – old books that are in the public domain, preserved in digital format for general use. I've mentioned many of the online spots for good needlework books here on Needle 'n Thread over the years, as occasionally, I like to highlight a book that's caught my eye, that you might find interesting, too.
Open Library is one of those hubs where you can search for old embroidery books available online.
Today, I'd like to point out one of my Absolute Favorite old embroidery books (I have it on my shelf and like to read it just for fun now and then). Unfortunately, it's not a widely available book (you can find used copies available now and then, but they tend to be pricey). But fortunately, it's available on Open Library in digital format, so you can enjoy it, too.
Then I'll give you some tips on using Open Library when you're foraging about for embroidery topics.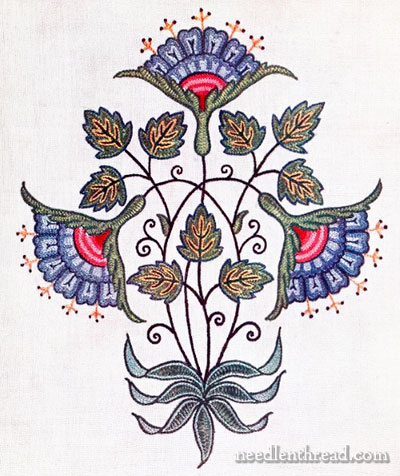 Embroidery by Grace Christie (also known as Mrs. Archibald Christie, if you're looking up any of her other books) was published in 1909.
It's a fantastic embroidery book – it's thorough, it's interesting to read, and it has plenty of black and white plates and color plates throughout, that serve up a good dose of inspiration.
The color plates throughout the book are of specific embroidery projects that Christie highlights in the book when discussing particular techniques.
For Old Books, I find Grace Christie's books very readable. I think they're interesting, well-written, sensible, and adaptable. They're some of the more timeless books of the old books on embroidery out there.
Embroidery, by the way, is not to be confused with her book Embroidery and Tapestry Weaving, by the way, which I talked about many years ago. Nor is it the same as her book Samplers and Stitches (also previous discussed), although, if you're familiar with that one, you may recognize a few repeat images (like the 16th c. embroidered jacket design).
You can find Embroidery by Grace Christie available through Open Library. You'll notice that you can choose to read it online, or you can open in various formats, which are listed on the right side of the page. For quick previewing, choose the "read online" link. If you want to save it to your computer, choose the PDF link and then save the PDF to your computer. If you want to read it on a tablet or mobile device, there are various file options listed.
Searching for Embroidery Books
When you're at the home page for Open Library, you'll notice there's a search box on the top right of the page. You can enter key words, titles, authors, publishers, etc. in this box, to do a simple search.
If you search "embroidery," you'll come up with a really long list of books, but they aren't all necessarily available online. The only complete, downloadable books you'll find online through Open Library (without "borrowing" e-books through your state library system) are books in the public domain.
Besides searching "embroidery," try to think of other options that might narrow your search. "Embroidery design" or "embroidery stitch" might be a good place to start.
Or, better yet, try a foreign word for "embroidery." When I search online collections, I always search "broderie," because the French were prolific in turning out good embroidery books in the late 1800's – early 1900's.
Once you type in your search term and a list comes up, if you are looking specifically for online books that you can browse through or download for free, you'll want to look for the open book symbol next to the listings (the red arrow is pointing to it). This symbol means you can read the book online or in various formats – that it's available right now, free.
So, mark Open Library as a hub for searching for online embroidery books, and next time you have a nice quiet morning for browsing, pour yourself a cup of coffee and explore your heart out!
You can find all kinds of other Online Embroidery Book resources mentioned here on Needle 'n Thread, if you're in the mood for a browse! This link will take you to a list of articles previous written, highlighting online needlework-related books.