How about a little round-up of hand embroidery ideas for Easter and Spring?
When Spring finally rolls around, I'm always convinced it's my favorite season. (Umm…strangely enough, when Fall rolls around, I'm equally convinced it's my favorite season.)
But right now, with the conviction that Spring is the Best Season of the Year Ever, I'm in the mood to share Spring Stuff with everyone!
Anything to promote Spring – in desperate hopes of forcing Nature's hand to spring Spring!
To that end, here are some embroidery ideas for Easter and for Spring, just in case you're on the prowl for something Springy or Eastery to stitch.
First up, for some easy stitching, how about a simple Spring Garden corner on a flour sack towel? Instead of lining your Easter basket with plastic grass, you can line it with a pretty embroidered towel!
Flour sack towels also make wonderful bread warmers on an Easter table. Line the basket with a towel, so that, when folded over a heap of warm dinner rolls, the embroidery is face up. It's perfect! And cheery!
You can find the Spring Garden embroidery pattern here, for free download. The best flour sack towels available these days (in my opinion) are the deluxe flour sack towels from American Chair Store. They're large, the cotton is not gauzy, and they don't pill or fuzz when washed. They're a nice surface for hand embroidery.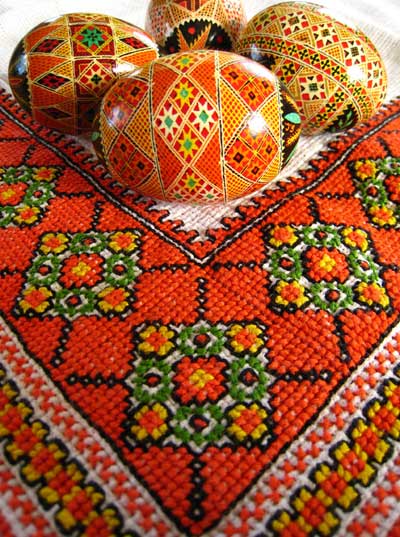 If you're more into counted work and would like to whip up (ok, this embroidery takes longer than just "whipping up"!) a cloth for your Ukrainian Easter basket, to go along with your pysanky, you can find the free chart for this Ukrainian Easter Cloth corner design here.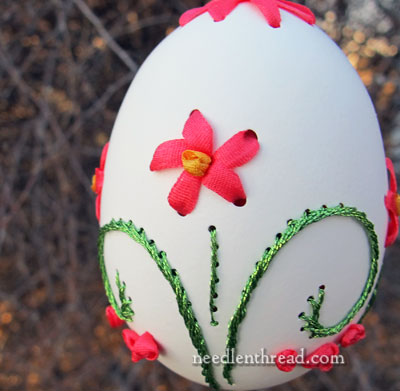 Of course, you can always go all out and embroider your very own real eggs for Easter!
I've compiled a list of links to all the articles on embroidering eggs, from my trial-and-error process last year. It's So Much Fun to do, but it does take a wee bit of time, and an extra large dose of patience!
But wow. The results are can be really pretty. And they're incredibly unique – you don't see a lot of hand embroidered Easter eggs at the local egg hunt!
You can click on the above for a larger image. This is a tea cloth embroidered by Margaret Cobleigh. It's a kit from Anchor, entitled "Spring."
I've not been able to find the kit still available online, but Anchor does have a few other freestyle embroidery kits available for spring-themed tea cloths – like this one at 1-2-3 Stitch.
Before you engage in stitching one of the Anchor kits, you might want to read through Margaret's explanation of embroidering the Spring tea cloth above, and what she did to improve it as she went along. It's a good lesson in adapting a kit and making it better!
If you want to go for something a little more religious for Easter or perhaps for a First Communion gift this spring, you could check out this embroidered prayer book cover. You can find the cross, flowers, and crown pattern here, for free download.
I do have one small beginner project that is Spring oriented that I'm endeavoring to finish and write up for you (aside from the Secret Garden project – it's definitely Springy, but it isn't small!), and I hope to show that to you in the next week or so.
In the meantime, I hope Spring comes to you soon, wherever you are!