Today, two things: the winner of Guide to Hedebo Embroidery from last week's give-away, and foreshadowing the next give-away, which is also a beautiful whitework book that's become pretty rare and mighty pricey!
First, the winner of Guide to Hedebo Embroidery by Stefania Bressan and Laura Marzorati.
If you remember, I asked the question, What is it that appeals to you most about whitework embroidery? and there were so many answers there that echoed my own thoughts! Elegant, timeless… that's whitework!
I enjoyed reading your answers, especially because I'm preparing some whitework and working with whitework threads quite a bit right now, and I found your answers motivating.
The winner of the Hedebo book is Linda B from Maine. Her answer to the question: "The elegance. I love the elegance and the delicate beauty of white work."
Congratulations, Linda! Please drop me a line with your mailing address, and I'll get your copy off to you soon!
If you're looking for your own copy of Guide to Hedebo Embroidery, you'll find resources listed at the end of my review. Also, you might keep an eye on the Lacis website. They do have some Hedebo embroidery books, and I think they are looking into carrying this one, too.
Coming Up Next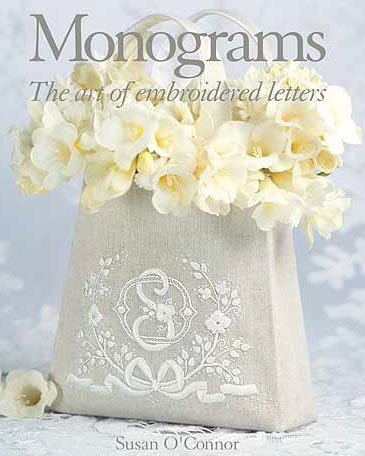 It's out of print.
It's hard to find.
And it's downright expensive if you do find it.
But it's an excellent book on the art of hand embroidered monograms – and a beautiful book! I had a rare opportunity to purchase a couple copies a while ago, and I'm giving one away in the not-so-distant future.
Rumor has it (or had it last year, anyway) that Country Bumpkin was looking into having this title re-printed, but it hasn't come about yet.
So if you've pined for this book, if you've sought high and low for it, or if you've balked at the prices being asked through used book sources (no kidding, I saw one source asking over $700 for it – which is just silly), the upcoming give-away is tailor-made for you.
I'll show the book up close, too. I just now realized as I was typing this that I've never reviewed it in detail. Tsk, tsk – I'm so negligent…
So, keep an eye out for that. And thanks to all who participated in the Hedebo give-away. Looking forward to the next one!