Oh dear. We were supposed to chat about some whitework embroidery threads today. But – woe is me – my photos turned out just dreadful! So instead, I'll share an update on the Secret Garden after some weekend stitching.
Deep down, I don't like doing updates too frequently on the same project, because I fear you might be sitting on the other side of the computer screen, bleary-eyed and yawning from boredom.
After all, hand embroidery projects rarely develop at a Rapid Rate by today's standards. Embroidery is a slow process – and I love it for that, most of the time.
But other times, I wish I were a Super-Fast-Bionic-Stitcher.
With sixteen arms.
And three heads.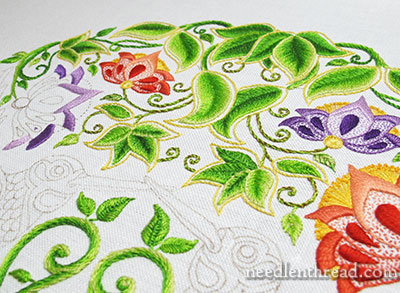 Alas, I am not.
And so today's update features Flower 5, all embroidered, and Flower 6, partially embroidered.
Flowers 5 and 6 are to the top left of center. Flower 5 is in the coral-red scheme, just to the left of center, and it is a relatively small little flower.
Notice that I didn't embroider it in the purple scheme, like its opposite number to the right of center. I don't want an exact mirror image here, so, working counterclockwise around the piece, I'm alternating colors on the flowers all the way around the ring.
I'll end to the lower left of center with a larger purple flower.
This way, the piece is still balanced, but not exactly mirrored. And this way, if I vary my approach between the two birds, no one should be bothered about the piece not being an exact mirror image!
I'm working on the tips of the large purple flower on the left – the tips you can see in the lower left of the photo above. Because this flower is a little off balance (like the one on the right side, too, with an extra petal), I'm going to incorporate the very dark purple in the tips.
And this, I find troubling. Why troubling? You see, I find there's a world of difference between embroidering with the darker purples on these satin stitched areas and embroidering with the corals / reds on the other flowers.
I don't know why this is – it's a phenomenon I'll have to explore further – but I find it more difficult to achieve a very smooth satin stitch with really dark colors (like the darker purples). I wonder if it is the dye on the thread that makes it a little less soft, a little less spready, than the lighter colors.
Have you ever experienced a difference between thread behavior and feel, when working with really dark colored embroidery threads? Or is this all just my imagination?
I've noticed the same thing when stitching with plain black floss, too, by the way…
To put the piece, size-wise, into perspective (and to show you my typical State of Disarray at the End of the Day), here's a shot of the embroidery on the frame which is held by my table stand, next to my repurposed embroidery thread rack holding all my discombobulated threads, on a messy table that's piled with other fabric, books, and various needlework tools, all begging to be put away.
So you see, it isn't all sunshine and roses and perfect order in my stitching world! No, no – it's often a glorious Mess!
Now, tomorrow, something different! I will wrestle my camera to the ground today, and strive to bring about some decent pictures of some white threads.
We'll have a good chat about them and we'll talk rot.
No really – we will talk rot. Because I want to talk to you about thread rot.
See you then!
If you'd like to follow along with the Secret Garden Hummingbirds project, you can find all the articles relating to this project arranged in chronological order in the Secret Garden Project Index.