First, the thread bits…
This is my Orts Jar. I've written about it before.
The significant fact here is that this is my Orts Jar, a couple days before beginning the Secret Garden project.
The thread bits (orts are leftover little bits of thread) are packed in there. Packed, I tell you!
But you see that there is still quite a bit of space in the pint-sized jar, so I continue packing 'em in while I'm working on the Secret Garden project.
I'm showing you this now, just in case The Jar reveals Something Interesting at the end of the Secret Garden project. Methinks it will.
Secret Garden Embroidery Group on Flickr
Other stitchers are beginning to add some photos to the Secret Garden Embroidery Group on Flickr. If you want to join in and add some pictures of your own project progress, we'd love to see them!
More About Woolies
Remember the woolies we chatted about yesterday?
Well, if you'd like to read more about them – and even see some on display – start with this article, "The Wonderful World of Woolies," from Southern Maryland Newspapers Online.
There, you'll learn about a collector of woolies, and you'll read about the exhibit of Woolies at Annmarie Sculpture Garden & Arts Center in Dowell, Maryland.
The exhibit is titled "Sailor Made: Return of the woolies," and it runs from May 23 of this year, through January 25, 2015.
Especially if you live in the Northeast, it would be worth a little summer road trip to see this wooly bit of history!
Hedeghog's Needlework Supply Sale
Last week, I mentioned Hedgehog Handwork's 15% off for 15 days sale – you still have a week to take advantage of that!
I got a little email from Joady at Hedgehog, letting me know that they are working around the clock to meet the demands of what she calls "the Mary Corbet Effect."
The response to the mention of the sale was apparently pretty enthusiastic. They're trying to avoid backorders, so that everything you order can be shipped at once. To that end, they're receiving more goods from suppliers this week, and she asked if I could assure my readers who have placed orders in the last week that your orders will be coming soon. And I'm sure they will! The Hedgehogs are very good about that.
I never actually know the effect of a mention on Needle 'n Thread (very few people tell me the details – whether it's a book review, thread talk, kit or product review, sale mention, or whatever) – so I thought this was kind of funny. But at the same time, I feel really bad for the Swamped Hedgehogs. Whoops!
Stitch Sampler Alphabet
Remember this Stitch Sampler Alphabet I was working on last summer?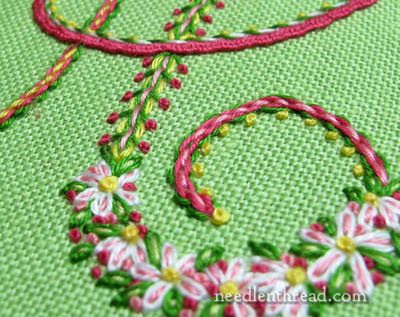 The alphabet was the result of a stitching goal: to use 25 – 30 different stitches and stitch combinations to work up a "sampler" alphabet of individual decorative letters that could be used for monogramming and the like.
Well, I've moved the related e-book to the top of my priority list, so, for those of you who have been asking (thanks heaps for your enthusiasm and patience!), that is back under way again, and, if all goes as planned, the e-book will be available later this summer. I'll keep you posted!
Coming Up on Needle 'n Thread
Don't forget that the Monograms book give-away is going on right now. It ends this week, so if you haven't joined in on that, don't miss your chance to win a copy of this hard-to-find book.
A few other delectable things coming up this week as well, including a tiny foray into some whitework-related stitchery, some thread talk, and a little more on the Secret Garden.
Hope your week is going well – see you on the morrow!