I have a Thing about old embroidery threads.
An explanation of a Thing might be in order, so you understand me correctly.
I often say, "I have a Thing about needlework books." Or "I have a Thing about good embroidery scissors."
And if you've been reading Needle 'n Thread a while, you probably gather that I like needlework books, and I'm attracted to good embroidery scissors.
But my Thing about old embroidery threads is slightly different. The fact is, I don't really like them the same way. I like the idea of them. I like looking at them, examining them, contemplating them.
But I don't like embroidering with them.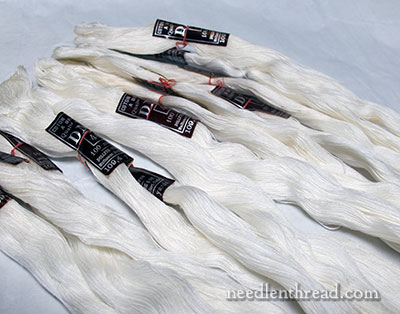 This doesn't stop me from occasionally collecting them or buying them – especially if I have hopes that they might be salvageable, and I know I can't get them new, any other way. But more often than not, I'm disappointed in that regard.
Why?
Because age affects embroidery threads. This is an Absolute – it's a fact, and, in fact, for the rest of this article to make sense, you have to be willing to accept this fact.
Age affects embroidery threads even more so if they are not meticulously stored with the intention of delaying the Absolute Certainty of the effects of age on the threads.
And let's face it: most embroiderers of old did not store their threads with museum-like care, to ensure the longevity of the threads.
Heck, most of us don't do that today! We expect to use the threads we have. And they didn't do it 50, 75 or 100 years ago, either, because they expected to use their threads, too.
I get this question, or some similar version thereof, a lot:
I have all my grandmother's embroidery threads from however-many-years-ago, and I want to know if I can still use them?
Or: I found a whole stash of embroidery threads for a really good price at an estate sale and I bought them. They look really old. Can I clean them and use them?
Let's explore that idea a little bit.
As we explore this idea of using old threads, keep in mind that, by old threads, I mean threads that have been more or less haphazardly stored for many decades. The threads the average embroiderer would have used forty or fifty years ago (or more), and that the average person (you and me, foraging about for threads) would find at estate sales, in attics, in old stock from old stores, and so forth.
What I'm not talking about is older threads used at professional workshops or kept in museums and the like, that have been stored under optimum conditions.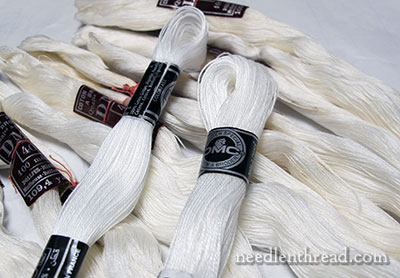 In the first photo in this article, and in the photo directly above, you'll see some old skeins of #40 coton a broder.
In the photo directly above, I've placed two new skeins of heavier coton a broder in blanc (not the 5200 bright white that's available today, but just regular, everyday white) on top of the old skeins, so that you can perhaps see the difference between the old and the new.
This difference between old and new threads is magnified because these are white threads.
Whether your old threads are colored or white, chances are, if they are some 50 or more years old, they have the same type of grime, the same type of discoloring, going on – you just don't notice it as much if the threads are colored.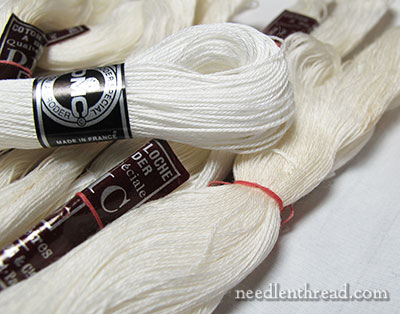 Besides the discoloration of the threads – which can be due to dirt and dust, to air and pollutants, to moisture or light, just to plain old aging – there is something else going on with the threads that you don't notice right away, or might not even think of.
Your eyes may not detect this other problem, but it is there, at least in some degree or another.
I call it Thread Rot.
Thread rots. That's all there is to it. Cotton thread rots. Silk thread rots. Wool thread rots.
It's a distressing idea, true. But it's a fact: natural fibers decompose with time, especially if they aren't meticulously cared for throughout their existence.
Some fibers don't rot as quickly as others. Silk will last longer compared to cotton, when under the same conditions. But…over time, thread rots.
Thread rot is not necessarily discernible to the naked eye. But if you have old threads, and if they feel stiff, if they lack the suppleness that they had when new, if they have discolored with age, if they have little bits of brittleness here and there, if they feel thin or delicate compared to the same thread, new, chances are, there's a bit of thread rot already going on.
When can you be certain of thread rot? When the thread decomposes as you use it. When it shreds and falls apart much sooner than you expect it to. When it breaks too often at the eye of the needle.
When it just… gives up the ghost. When it can no longer do what it was made to do.
Age has taken its toll, and the thread has begun to decompose.
Here, you can see little darker bits of discoloration on the thread. This looks and feels like a stain from another substance – not just discoloration from contact with something.
And another substance adhering to a thread like this is just one more thing that hastens rot.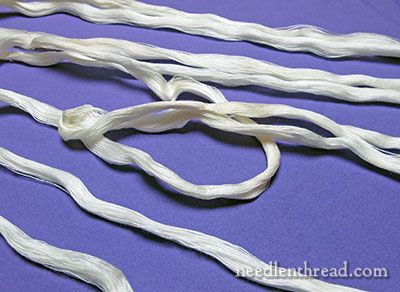 In any case, can you still wash these old threads and use them?
Of course you can!
But… why would you want to?
If you're talking about a natural fiber that is already well into its Life's Journey, why would you want to spend the time, effort, and frustration – and possibly risk the outcome of your intended project – by using threads that are past their prime and most likely on their way to decomposition?
Is your intention to embroider something that you can enjoy for years to come? Something that you can hand down to your kids or grandkids? Something that you hope will be valued as art some day? Something that future generations will treasure? Then don't use old threads – because none of the above will happen. The thread is already on its way out. Your work won't be treasured for very long – or certainly, not as long as it could be, if you used new threads.
Or does this describe you: You're practicing stitching, having a little fun with crafty embroidery and the like, and you don't really plan on the piece lasting forever – realizing that what you're doing is just passing fancy, but you're having fun learning how to do it, so… the thread doesn't matter. You just want to learn, and you'll work on the "art" approach once the learning is done.
Even in the latter scenario, the thread does matter. If you are learning, don't learn on something that is going to cause you frustration and grief, something that's going to fall apart on you, something that's going to give you inferior results. Don't use that 75-year-old cotton floss you found in your neighbor's attic… spend 50¢ or $1.00 on a new skein.
Now, when it comes to using only slightly older threads that still feel ok, still look ripe and good and usable, but might be dusty and grimy, that's a different question. And we'll talk about that next time – how to clean these not-new but still usable embroidery threads and make them ready for use.
Any thoughts? What's your take on using really old threads? Have you experienced the effects of age on embroidery threads? Any tales to tell? If you want to chat the subject up a bit, feel free to leave a comment below!