Ever since returning from a little road trip almost two weeks ago, I've been in a bit of a slump, and my embroidery on the Secret Garden project is suffering for it.
A Slump? you say. Yes. A Slump.
Well, it's a strange slump – but I'm sure I'm not the only one who's ever experienced a slump like this. It's like facing the kitchen after a huge Thanksgiving dinner for forty people. You look at the dishes heaped hither and yon, the pots, the pans – there's a lot to do, and unless you work out some organized process, it's going to take a lot of time to clean up the mess! Flitting from one little dish to another, from one section of the kitchen to another, isn't really going to help things.
Sometimes, it's just hard to know where to start.
Sometimes, the best option is burying your head in a pillow and waiting to see if elves really do exist.
But when it comes to embroidery – or to anything creative – sometimes, the best thing to do is to step away from a project for a little bit. Sometimes, it's just helpful to take a break and tackle other things that need to be tackled.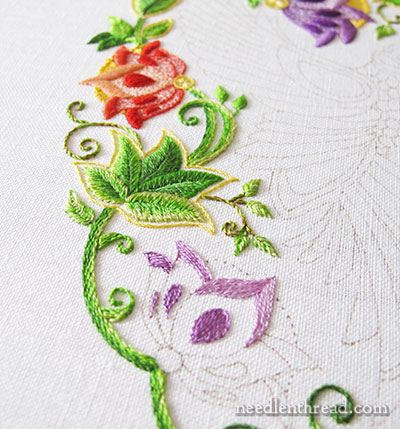 And so, for the past many days, I've been tackling other Needle 'n Thread-related things that have been piling up – trying to clear the cobwebs, re-group, re-organize, and re-vitalize.
With my mind a little freer to be still and concentrate on embroidery, I finished one flower and started the last flower on the Secret Garden hummingbirds.
I thought I could finish both flowers in one sitting, but that was just me, being overly optimistic again.
This is progress so far. And today, the flowers will be finished, or I'll eat my hat.
Unlike Thanksgiving dinner, hat is a very easy dinner to clean up. Much like crow, no one else ever wants to eat it with you…
If you'd like to follow along with the Secret Garden Hummingbirds project, you can find all the articles relating to this project arranged in chronological order in the Secret Garden Project Index.