Wow – this alphabet went fast! We're only four letters from The End!
The previous monograms I added to the free embroidery patterns here on Needle 'n Thread took months and months – and sometimes, over a year! – to make the whole alphabet available. This time, I decided larger groups of letters over a shorter period of time would be more helpful for folks looking for pretty monogram alphabets for hand embroidery.
And happily, these 26 letters have gotten to you rather quickly! So, here's the second to the last set of letters – the S, T, U, and V.
This particular style of S for embroidered monograms is not one of my favorites, admittedly. It's typical of the late 1800's and early 1900's, but it's not really as recognizable today as an S. I should draw up a more modern S, methinks, to offer an alternative.
Even though a modern S might detract a little bit from the classic and historical "feel" of the alphabet, I believe that designs like this can be (and should be) updated.
That's embroidery, after all! It's a living art, and something that changes with the times. We bring to it newness, building on what has come before. Otherwise, it wouldn't be art, really. It would just be repetition, strict imitation, duplication. When we update a style or bring to it something new, we further the art a little bit and keep it alive. Right?
In any case, this is a typical S for monogram alphabets. When I have a chance, I'll work up an updated alternative.
This particular style of T, though, I like. It's a nice T!
More Stitch Suggestions
I received an email the other day asking if I could recommend a braid-looking stitch for these letters.
The are some difficulties you'll run into with braid-like stitches for these letters, but that's not to say braid-like stitches can't be used. It might take a little playing to make them work, a little manipulation here and there of design or stitch structure, but I think it can be done.
Where the letters narrow (for example, the top of the T above), many braid-like stitches would be too cramped.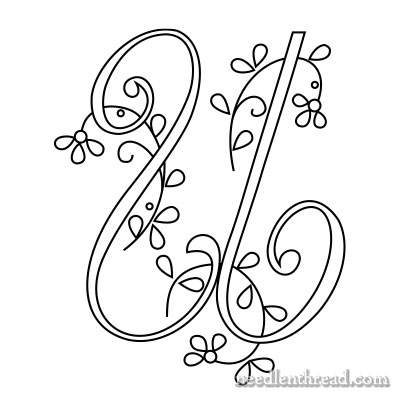 However, if you want the braided look on the wider parts of the letters, you could always work into the narrow parts with a different stitch.
Some braid stitches, for example, might morph easily into stem stitch, while others might morph into an elongated herringbone stitch, and still others might work into a simple chain stitch or something similar.
You'd have to play with the narrowing and widening of the letters, to get braid-like stitches to work, but I think some of them could work pretty well.
Here are some braid-like stitches that you could play with for monogramming:
Braid / Cable Plait Stitch
Spanish Knotted Feather Stitch (worked close)
Plaited Braid Stitch
Herringbone Stitch (worked closed)
Basket Stitch
You could even work some raised stitches – like raised stem stitch or raised chain stitch – over the broader areas of the letters, and then morph into regular stem stitch or chain stitch in the narrows.
You'd have to use a fairly fine thread to manage some of these; otherwise, the letters will come out quite bulky. You wouldn't want to lose the delicate look of the letters with too much bulk or texture.
Definitely something fun to play with and experiment with!
Monograms for Hand Embroidery – Printables
Here are the PDFs for today's monograms. The letters will print at 1.5″, 3″ and 4″ high if you choose no scaling (or a similar setting) on your printer. You can enlarge and reduce them by using the scaling feature on your printer or by using a photocopier.
Monogram for Hand Embroidery – Delicate Spray S (PDF)
Monogram for Hand Embroidery – Delicate Spray T (PDF)
Monogram for Hand Embroidery – Delicate Spray U (PDF)
Monogram for Hand Embroidery – Delicate Spray V (PDF)
Favorite Monograms – PDF Collection
You'll find this complete alphabet – along with 15 other decorative alphabets – all in one place in Favorite Monograms, a downloadable PDF collection of 16 monogram alphabets perfect for hand embroidery and other crafts.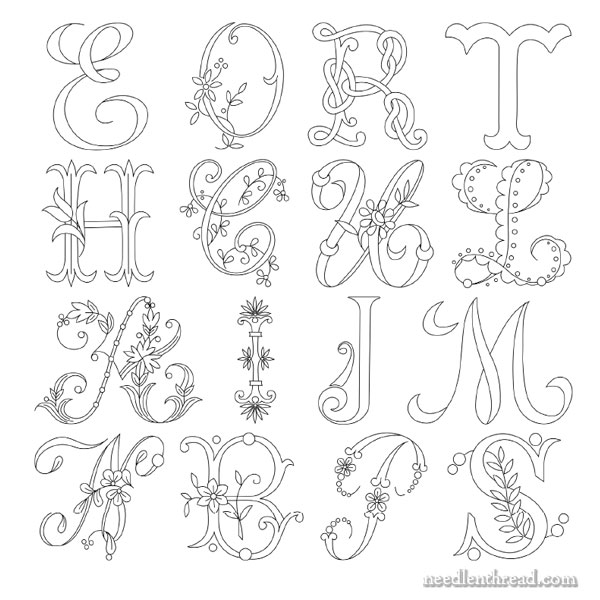 In the photo above, you can see samples of each alphabet available in Favorite Monograms.
Each letter in each alphabet in Favorite Monograms has been carefully traced into a clean line drawing that can be easily enlarged or reduced on a home printer or a photocopier.
The 16-alphabet collection is delivered as via a download link to your inbox shortly after purchase, so that you can begin creating right away! Priced at less than $1.00 per complete alphabet, monogram lovers can't go wrong with this collection!
Favorite Monograms is available in my shop, here.