Last week, I added the Daisy & Rings monogram alphabet to the patterns page here on Needle 'n Thread, and introduced the alphabet with the A and B.
Today, I'm adding C and D to the list for you!
I really love this alphabet – but the reason I'm sharing it now has more to do with the fact that, in the "near-ish" future, we'll be looking at monogramming a little closer, and in case you decide you like monogramming, too, I want you to have access to some easily printable monogram patterns.
Near-ish is such a relative term. Right now, with the Secret Garden still progressing, I don't want to move off on a monogramming tangent.
But just so you know, it's a-comin'…
When we looked at the A and B in this alphabet, I gave some basic stitching ideas, but also opened up the question to you all: any ideas for embroidering these letters?
Sandy suggested enlarging the letters to 10 or 12″ and using them for appliqué. The letters break up easily into large enough segments with simple enough lines that they would work really well for appliqué.
I think that's a brilliant idea! I could see it done for quilt squares, too – maybe smaller, at 6 – 8″.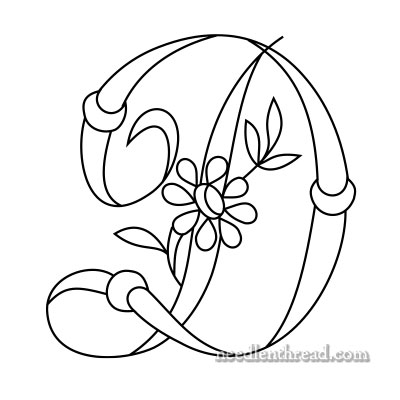 You could appliqué the whole design, or you could appliqué the letter part, and embroider the flowers and leaves.
Any other ideas? We're all ears!
Printable Monogram Patterns
Here are some handy dandy printables for the A and B in this alphabet. If you choose "no scaling" (or a similar setting) on your printer, the letters should print at 2″, 3″, and 4″ high. You can enlarge and reduce them to suit your needs!
Daisy & Rings Monogram for Hand Embroidery: C
Daisy & Rings Monogram for Hand Embroidery: D
Favorite Monograms – PDF Collection
You'll find this complete alphabet – along with 15 other decorative alphabets – all in one place in Favorite Monograms, a downloadable PDF collection of 16 monogram alphabets perfect for hand embroidery and other crafts.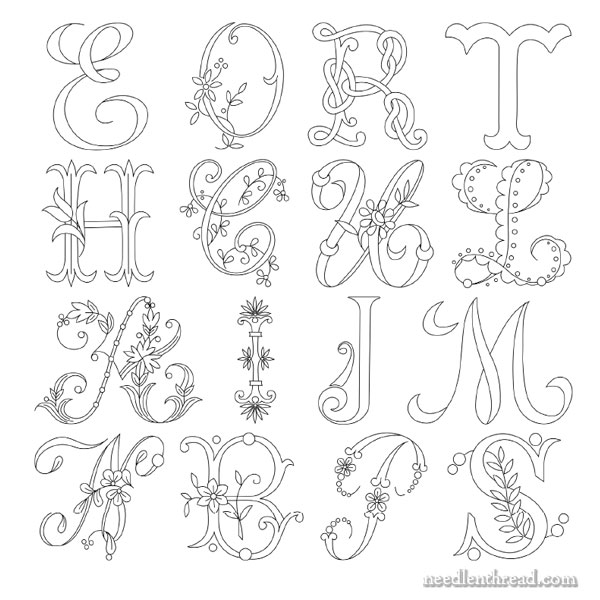 In the photo above, you can see samples of each alphabet available in Favorite Monograms.
Each letter in each alphabet in Favorite Monograms has been carefully traced into a clean line drawing that can be easily enlarged or reduced on a home printer or a photocopier.
The 16-alphabet collection is delivered as via a download link to your inbox shortly after purchase, so that you can begin creating right away! Priced at less than $1.00 per complete alphabet, monogram lovers can't go wrong with this collection!
Favorite Monograms is available in my shop, here.