Saturday morning! The birds are frolicking, the air is cool (mid-50's! Yes! Autumn is coming!), the windows are open, my tea is hot – in short, it is a perfect morning to sit and chat with you!
Now and then, I come across newsy needlework bits, important information, interesting blog posts, splashes of inspiration, or just some neat little embroidery-related thing that makes me think of you. "Ah, I'll share that with my friends…" So I keep a list. And eventually, they morph into a weekend chat.
Today, though, I'm just going to concentrate on one bit of news, because I think it's important. We'll have a chat about the other bits, later on.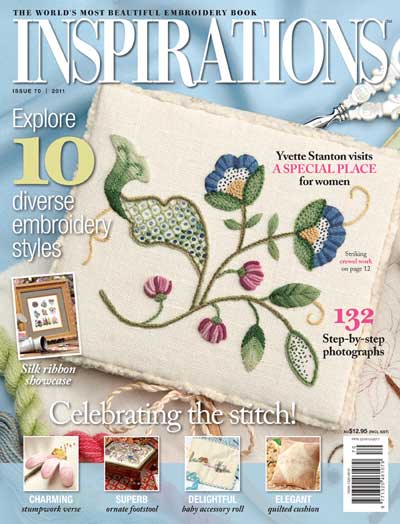 Do you subscribe to any needlework magazines?
Really good magazines devoted to hand embroidery are hard to come by. So instead of subscribing to several mediocre, sometimes-interesting-sometimes-not, magazines, I subscribe to one needlework magazine consistently, and that's Inspirations Magazine.
If you're not familiar with Inspirations Magazine, but you love beautiful hand embroidery, you should become familiar with it!
Inspirations is, without a doubt, the best hand embroidery magazine available today, and for the last 20+ years that it's been in circulation.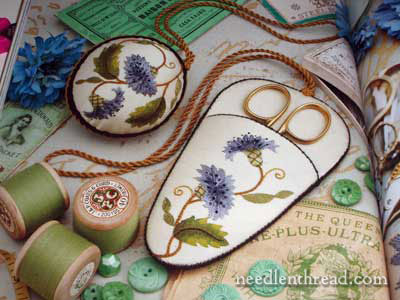 It's a gorgeous magazine. Each issue features an array of embroidery projects from contributors all over the world, along with thorough instructions, patterns, and materials list for each project.
So each issue of Inspirations is really a project book – a beautiful project book! – with an array of different types of projects in different techniques, geared towards various levels and abilities and interests.
But it is so much more than that, too! In addition to the projects, the magazine also features embroidery-related human interest stories, reviews of books and supplies, and other bits of interest for the needleworker.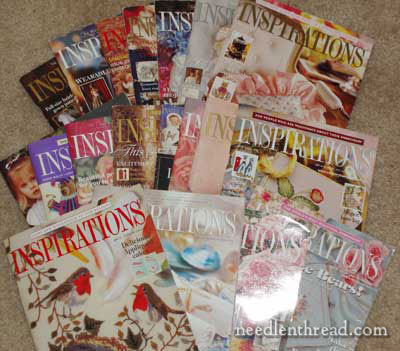 My love of Inspirations began the first year it was published, back in the 90's. I was in college then, and I lived in a world that suffered from a dearth of interest in surface embroidery.
In the US, the popular stitching of choice was counted cross stitch or needlepoint, and local needlework shops reflected this fact. It was darned difficult to find anything surface embroidery-related – supplies, instructions, books, inspiration – especially if you didn't know where to look.
My sister subscribed to Inspirations the first year it came out. When I'd head home between college terms, I'd pinch her copies and take them back with me. When I finally graduated and got settled into a career, one of my first indulgences was to subscribe to Inspirations.
You see, Inspirations Magazine was my inspiration. It piqued my interest in all kinds of embroidery techniques, when surface embroidery information was hard to come by. I learned a lot from Inspirations!
Each new issue was a new lesson, a new avenue of embroidery to explore. It's one of the best investments in my craft that I have ever made.
And I doubt I'm the only embroiderer who would say this! Inspirations has truly done its bit in keeping the Embroidery Torch burning!
Now, you're probably thinking this sounds a lot like a sell job. And you know what? It is!
I wasn't put up to it, I wasn't asked to do it. But I think it's really important to get this news circulated in stitching communities.
And the news is this:
Inspirations Needs Your Help
The magazine needs your help. It needs subscribers, or it's going to go the path of so many other good magazines of the past. It's going to disappear.
With substantial cost increases in postage and in printing in recent years, the publishers need to expand their subscriber base.
The best way to help the folks at Inspirations gain new subscribers is to spread the word about the magazine. If you're already a subscriber, tell your stitching friends about it. Tell them why you like it! Take copies to your guild meetings. If you blog, write about it! Tweet it! Share it on Facebook and Google+.
If you don't yet subscribe to Inspirations, now is a great time to treat yourself to a subscription. If you love embroidery, you'll never be sorry!
Give a Gift Subscription
Another option? Give a Gift Subscription!
I would have given my right arm for a gift subscription to Inspirations when I was just settling into life and discovering hand embroidery!
Maybe you know someone who is just discovering the wonders of hand embroidery, who would benefit from some Inspiration? Maybe you have a relative or close friend loves embroidery – this would be the perfect birthday present or Christmas present! Maybe you know someone who is isolated and alone, whose spirits would be lifted just by reading the magazine?
The Way it Works
Inspirations has a new method of subscribing to their magazine. All subscriptions are pay as you go. In other words, each quarter, your payment method is debited for the cost of a single edition of the magazine, spreading the cost out over the year. You can cancel at any time.
You also have the option of a Digital Subscription to Inspirations. You can read my review of Inspirations Magazine for E-Readers here.
So there's my Saturday message. Consider subscribing to Inspirations for yourself, give a gift subscription, put it on your Christmas wish list so your family can get it for you, and tell all your stitching friends about the magazine to help spread the interest!
Over to You!
Do you subscribe to Inspirations? What do you like about it? What would you say to encourage other stitchers considering subscribing to it? Have your say below!