Do you keep a doodle cloth?
In hand embroidery, a doodle cloth is usually an extra piece of fabric that you keep on hand, to practice embroidery stitches on before you apply those stitches to an embroidery project.
If you embroider, and especially if you're a beginner (but even the experts do it!), a doodle cloth is a good idea!
Let's look at five reasons you should use and keep a doodle cloth with your embroidery projects.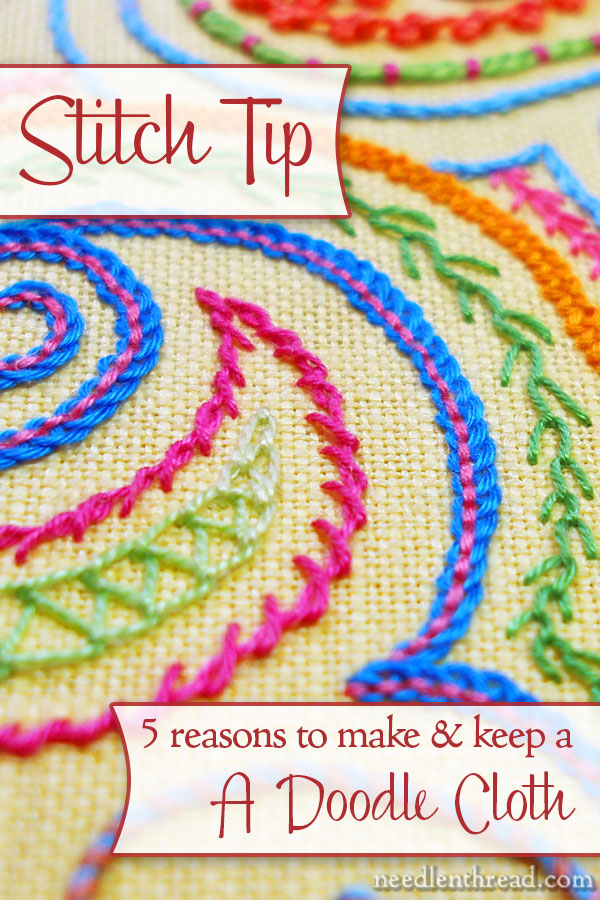 1. Practice makes perfect!
A doodle cloth gives you a dedicated place to practice unfamiliar or challenging embroidery stitches, techniques, color combinations, and thread types before you add them to your project.
Having a dedicated spot to practice on is a great thing, psychologically! It makes it ok to practice, ok to make mistakes, and ok to stitch only as much as you want to. It makes it ok to be experimental. It makes it ok to change your mind!
2. A doodle cloth saves your ground fabric.
You know that really nice, expensive fabric you're using for your current embroidery project? If you approach that fabric with an unfamiliar stitch and have to remove that stitch, what will it do to the fabric?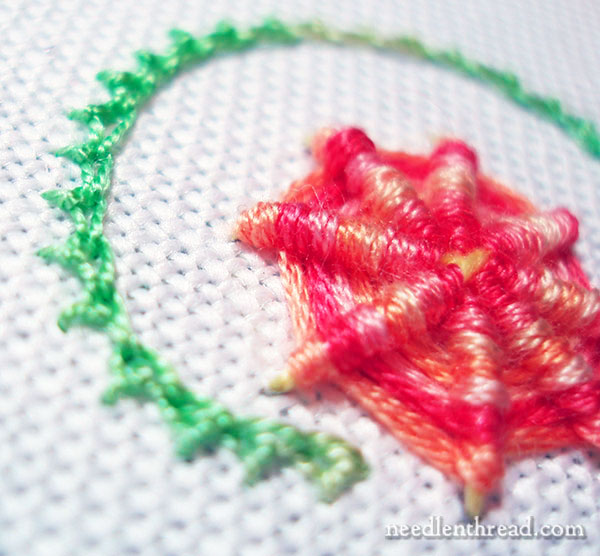 Ribbed Spider Web and Mountmellick Stitch
On some fabrics, it doesn't matter so much. A very good linen fabric, for example, can handle the wear and tear of stitch removal quite a few times before it affects the fabric.
But most fabrics, especially cottons, certain silks, and most synthetic fabrics, can't handle the stress of too much un-stitching.
3. A doodle cloth creates a record.
The embroidery stitches you learn, the threads you try, the color combinations you experiment with – all of these are worthy of record-keeping.
A doodle cloth – as a kind of sampler – is a great way to record your trials, errors, successes, failures – all the experiments of your stitching!
In the future, you can go back to your doodle cloths to remind yourself of stitches, color combinations, and so forth that you did or didn't like.
Cast-On Stitch Flower with French Knot Center
At some point, you might return to your doodle cloth and find an unexpected treasure on it – something you forgot about – that you can resurrect on a different project.
4. A doodle cloth can become a project in itself.
You can arrange your doodle cloth so that it creates a pleasing or fun finished product.
You might be surprised how a doodle cloth can become a nice looking sampler that can be framed or finished into something else – a book cover, a needle book, a pin cushion.
A doodle cloth doesn't have to be viewed as a "waste," then. Even if you don't do anything with it, it's never a waste.
But if you cringe at the idea of using thread and fabric just to play around on, with no set purpose, you can make your doodle cloth purposeful and use it down the road!
5. A doodle cloth opens up possibilities.
By keeping a doodle cloth, you open up stitching possibilities. One stitch inspires another. One color urges you to test another color. This combination worked this way – what happens if I try it that way?
Trial and error with stitch experimentation is, believe it or not, inspiring. It leads you to knew territory, it opens up possibilities for future projects, it keeps those creating juices flowing.
The Essentials of a Doodle Cloth
To keep a doodle cloth, you really only need some scrap fabric and an extra embroidery hoop.
If you want to work a more organized doodle cloth that can be repurposed into some finished item, you might consider your fabric choice and the layout of your practice stitches and the like more carefully.
Sometimes, I use a larger cut of fabric that I leave set up on a frame (like the one in the last picture above). Usually, this is for photographing stitches as well as doodling. Other times, I'll select a specific type of fabric that I want to try out – or a specific color of fabric. Sometimes, I'll just use the cut ends of linen pieces or small left-overs that can't be used for much else.
Just a hint, though: the fabric you choose for a doodle cloth should be easy to stitch on. Don't select a synthetic or a flimsy fabric that won't hold the stitches and that will cause frustration! When practicing, it's very important to keep your controllable frustration factors in check, and fabric choice is one of those. So, don't set up a doodle cloth on a slippery rayon, ok?
What About You?
Do you use a doodle cloth regularly? Is it something you go about in an organized way, with the intention of creating a sampler or a record of your work? Or is it more haphazard? Do you think doodle cloths are a good idea, or a waste of time and supplies? Let's hear your take on the doodle cloth! Join the conversation below!
Tags