If you're a fan of needle painting, you are most likely familiar with Trish Burr's exquisite embroidery, where she uses needle and thread to "paint" embroidered vignettes – primarily, flowers and birds.
Trish has a substantial list of published books available for the embroiderer, books that are a combination of instruction and projects. If you've ever wanted to learn needle painting, her books are a great place to start!
My two favorites, which I've reviewed already here on Needle 'n Thread, are Needle Painting Embroidery: Fresh Ideas for Beginners and Colour Confidence, which is devoted to teaching embroiderers how to use color, especially when needle painting.
Well, this year, Trish is adding yet another book to her published repertoire: Miniature Needle Painting Embroidery. This particular book is devoted to the embroidery of small needle painted projects, including vintage portraits, flowers, and birds.
Miniature Needle Painting Embroidery isn't due out until March here in the US, but Trish sent me an advanced copy, so I thought I'd review it for you, in case you want to add it to your wish list!
What I really love, love, love about the projects in this book is that they are small. And because they're small, they can be completed in a relatively short frame of time. A weekend of stitching will give you a darling finished piece of embroidery!
And the small designs are useful, too. They make great little gifts, framed, but they can also be added to crazy quilts, worked on children's blankets or quilts (I love all the little vintage images of children in this book!), made into framable birthday cards, finished into needle book covers, journal covers – there are so many things you can do with small pieces of embroidery!
So, let's take a look at the book!
Miniature Needle Painting Embroidery is separated into two parts, really. The first part is all the preliminary instruction (starting from the beginning, including materials needed, thread and fabric discussion, stitches used and basic techniques, and two starter projects for practicing), while the rest of the book encompasses lots of little projects: flowers, "portraits" – which are actually little vignettes mostly of children, and tiny little fluffy birds.
Throughout the book, you'll find pretty little adornments, like the embroidered pot of flowers above (which is also a project in the book). I love little touches that make a book pretty, don't you?
Trish instructs on the long & short stitch and all the other stitches needed to work this type of embroidery, using diagrams and step-by-step photos.
The difference between the approach in this book and other books on needle painting is that she shows us how to adapt regular needle painting techniques to a small scale design and still achieve a perfectly shaded result.
Wee pansies! The finished size of many of the projects in the book is no larger than 2 – 3 inches, give or take, in either direction.
For each of the projects, Trish includes step-by-step photos that show the progress of the embroidery, so that you can easily gauge where you're going and what you should be achieving as you're stitching.
It's nice to be able to see what your work should look like at each stage of a project.
Throughout the book, there are sections of hints and tips to help the stitcher along. These tips are essential for creating a realistic, painted effect with the embroidery.
For example, in the tip above, Trish demonstrates the order of stitching the petals of one flower, so that they overlap each other.
A wee birdie! And such a fluff ball! This fellow is the starter projects for stitching birds.
And again, within the section on stitching birds, we get detailed instruction on how to achieve that fluffy aspect.
Each project in the book is accompanied by a pattern at the actual size, a stitch guide to show you what stitch and color is worked where, a thread list, and instructions for completing the project, including step-by-step progress photos.
Most of the threads used in the projects are DMC and Anchor (used in combination), but for the teeny tiny details, Trish uses Güttermann's Sew-All polyester sewing thread, sometimes taken apart into two separate plies. She explains her reasons for choosing this thread, particularly that it can be split into a very, very fine thread (and still remain usable and strong), that the thread is available in a wide range of colors that work well with DMC and Anchor flosses, that the thread is widely available and affordable.
The projects in the book are adorable! Counting the starter projects – the pansies and the little bird – there are a total of 20 miniature needle painting projects in the book.
There's also a nice set of instructions for constructing a beautiful needle case using one of the designs.
I love these chickens. Those are some darned good-looking chickens, for being so small!
Here again is a sample of the progress photos for one of the projects. Where necessary, close-up photos are also provided so that certain details can be very clearly seen.
Little Christmas birds – this image is 2.75″ x 3.5″, so it's quite small. There are thirty-five shades of DMC in this little image (and five shades of Gütterman's). That's forty shades of color!
That's how Trish achieves such magnificent shading!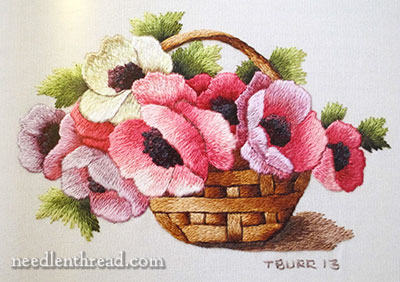 This lovely basket is 2.25″ x 3.75″ in size. It involves thirty three shades of DMC, five shades of Anchor, and three shades of Gütterman's!
This is my favorite piece in the whole book – there's something about it that grabs me. I think it's the dark centers of the anemones, contrasting with the vivid colors, the shading on them, the way the flowers are bursting from the basket – it's really fantastic! And it's smaller than a deck of cards!
The projects include enlarged version of the finished embroidery, but they also include "actual size" finished images with each piece. This is a very nice touch, because it keeps the embroidery in perspective.
At the back of the book, you'll also find a thread conversion chart between DMC and Anchor, as well as a list of suppliers.
Pros & Cons
Trish's books always start from the very beginning, so that a beginner can pick up on the technique, practice it with a starter project, and then work through various levels of projects in the book, improving skills along the way. I like that. It's a good way to teach – very incremental, very manageable.
The book is quite hearty, clocking in at 200 pages. It's substantial. And it's well made and very pretty.
The instruction is top notch!
The projects are fun – and there are a lot of them!
So the pros are many!
The only con I can think of is not really in the book itself, but more in the technique. This is definitely a technique that requires very good eyesight, very good lighting, or very good magnification. If you have weak eyes, it probably isn't for you!
But, if you like small, and if you like needle painting, and if you like a challenge – but one that is made accessible through good instruction, and if you like color – then guess what? You'll love these projects! And you'll love the book!
Where to Find Miniature Needle Painting Embroidery
You can find Miniature Needlepainting Embroidery through the following book affiliates:
In the US, you can find Miniature Needle Painting through Amazon.
Worldwide, you can find Miniature Needle Painting through Book Depository, where shipping to most countries is free.